SALT LAKE CITY, Utah, June 27, 2019 (Gephardt Daily) — The parents of Lauren McCluskey — the 21-year-old University of Utah athlete shot dead in a car outside her dormitory after repeatedly asking the campus police for protection against her ex-boyfriend — have filed a $56 million lawsuit against the U, attorneys say.
McCluskey was ambushed by former short-term boyfriend Melvin Shawn Rowland, and killed with a borrowed gun outside her University of Utah dormitory on Oct. 22, 2018.
On Thursday morning, Lauren's parents, Jill and Matthew McCluskey, represented by attorney James W. McConkie, announced that the lawsuit is a way to force the U to be accountable for failures that contributed to what they call Lauren's "preventable" death.
"Even though a review team made 30 recommendations to fix, (U of U) President Ruth Watkins said that the report does not offer any reason to believe this tragedy could have been prevented," Jill McCluskey said at the news conference. "This statement made me physically ill.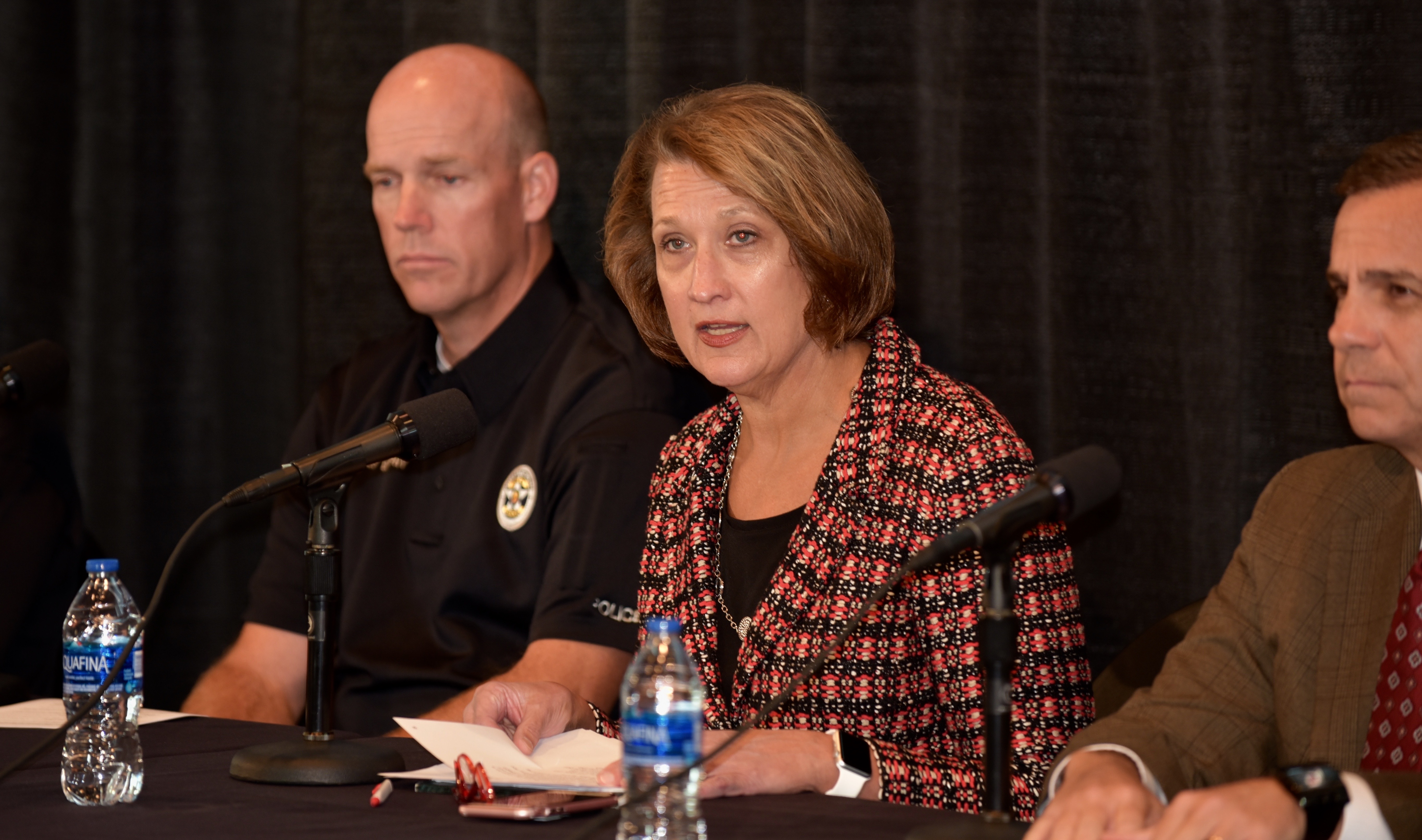 "Still, we tried to work with Watkins. We repeatedly asked her to take responsibility and to hold individuals accountable."
Jill McCluskey said that she sent an email to Watkins in December asking who was responsible for training campus police.
"Those individuals failed Lauren, with fatal consequences, and need to be held accountable," McCluskey said. "… President Watkins never responded to my email. The university has taken no responsibility for Lauren's preventable death. No one has been disciplined or held accountable in the campus police or housing."
"Matt and I realized that the only way to improve campus safety is to file a lawsuit. This is our last resort to effect positive change. The university must pay a large amount so they realize it is in their interest to believe women and act with urgency when their female students ask for help."
Jill McCluskey said any money gained from a lawsuit win will be used to help fund a foundation established in Lauren's name, to help female athletes, and to pay any costs resulting from the suit.
A statement from McConkie and associate attorneys says Lauren and her family and friends asked campus police for help nearly two dozen times in the two weeks before  Lauren's murder by Rowland, who was found hours later, dead of an apparent self-inflicted gunshot wound inside a Salt Lake City church.
"Lauren and her fellow students contacted the University of Utah more than 20 times to report Rowland's abusive, dangerous and threatening behavior," the attorneys' statement said.
"This preventable murder occurred because the University repeatedly ignored multiple concerning reports of stalking, physical abuse, emotional abuse, intimidation, dating violence, domestic violence, sexual harassment, gender based discrimination and other dangerous and abusive behaviors prohibited under Title IX of the Education Amendments of 1972, 20 U.S.C. § 1681(a),"
Lauren McCluskey began dating Rowland in September 2018, the attorneys' statement says.
"He was a large, powerful and handsome man who was over 6 feet tall and weighed approximately 250 pounds. Lauren did not have much experience dating and at first, Rowland seemed attentive and respectful. But Lauren did not know that Rowland was lying about his name and age, among other things, to hide the fact that he was a dangerous felon, a registered sex offender, and on parole.
"Within a very short time, the relationship began to sour. Rowland became extremely
possessive, controlling and manipulative as a pattern of dating violence and domestic violence emerged. Among other things Rowland was unabashedly jealous; he employed various tactics to control Lauren's daily activities; he isolated Lauren from her friends; he stalked Lauren, monitoring her whereabouts and activities both on and off campus; he was profoundly narcissistic; he was a chronic liar. And Lauren's friends started to become suspicious and worried."
The statement says McCluskey was "profoundly shaken when she discovered that Rowland had lied about his name and age. She found out that he was a registered sex offender who had been convicted of a second-degree felony for the enticement of a minor over the Internet and of a third-degree felony for attempted forcible sexual abuse, separate crimes committed just a few days apart."
Rowland had been given early parole, before his previously determined date in 2019, the statement says, adding "he had been released early and was on parole at the time that he violently murdered Lauren."
McCluskey ended the relationship.
"Rowland was infuriated," the attorneys' statement says. "In retaliation, he harassed Lauren relentlessly with electronic communications. He stalked Lauren on and off campus. He threatened to kill himself to manipulate Lauren. He attempted to blackmail Lauren. He tried to intimidate Lauren when she contacted the police in an attempt to scare her into withholding information regarding his criminal behavior. And he impersonated a police officer in an attempt to lure Lauren away from her dormitory. Lauren reported this all to the police, but her reports, in practicality, were ignored.
"The University of Utah failed to investigate whether Rowland was on parole, failed to
attempt to make contact with Rowland or with anyone who might have information about him, failed to make any attempt to determine whether Rowland was behind the harassment and attempted blackmail, failed to acknowledge that Rowland had committed crimes in addition to the blackmail, failed to use any reasonable means to protect Lauren, failed to formulate or implement any plan to prevent further abuse, failed to inform Lauren as required of the rights and remedies available to her.
"Despite doing everything within her power to get the University to take action, on
Oct. 22, 2018, Rowland hunted Lauren down on campus as she was returning from class. He grabbed her, dragged her across a parking lot and shoved her into a car that he had borrowed. At the time of the attack, Lauren was on the phone with her mother and father, Jill and Matthew McCluskey, who heard her cries for help and immediately alerted law enforcement.
"Rowland then shot Lauren over and over — seven times in total — he then called a woman that he just met online, invited her to dinner and later showered at her apartment. Later that night when the police attempted to apprehend him, he fled, broke into a church and ultimately committed suicide."
The University of Utah did not immediately issue a response to the announcement of a lawsuit. Gephardt Daily will update this story as information becomes available.