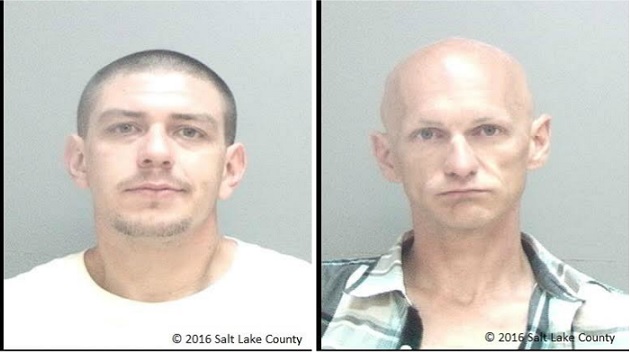 TAYLORSVILLE, Utah, June 21, 2016 (Gephardt Daily) — A man police believe initiated a car chase through Taylorsville Saturday while shooting at the vehicle he was pursuing has been arrested.
Unified Police Lt. Lex Bell said James Castrillon was taken into custody Monday night at about 6:30 after officers in Taylorsville located him in a stolen Nissan Sentra.
Castrillon was wanted in the Saturday incident reported by multiple witnesses as two reckless drivers traveling along 5400 South near 3200 West.
Witnesses told officers that a white Nissan Altima was being chased by a blue or green Hyundai Elantra, and someone in the Elantra was shooting at the Altima.
The two vehicles turned south onto 2200 West at a high rate of speed just before the driver of the Altima lost control and crashed through a fence, and into someone's back yard.
After crashing, the occupants of the front car, the Altima, ran to a nearby church trying to hide from the suspects, who followed them and fired again.
As the fleeing men from the first car tried to gain entry to the church, a burglary-in-progress call was triggered to dispatch.
Responding officers located one of the men who was in the Altima. He told officers the situation unraveled when a drug deal involving a large amount of methamphetamine went bad.
The Altima he had been in was reported stolen in May by a dealership.
Officers were able to track down the owner of the Elantra and he told police he had let a friend borrow the car who later called and told him he was done with his car and told him where he could pick it up.
Officers located a 9 mm bullet from one of the roads traveled during the car chase and also recovered a 9 mm handgun from the stolen vehicle Castrillon was found in Tuesday night.
Bell said in a prepared statement that it was fortunate that no one was killed or injured as a result of the "blatant disregard for human life" displayed by all parties involved.
"The fact that no one was hit by a stray bullet or one of the vehicles is amazing," Bell said.
"The threat to public safety that the occupants of the Hyundai represented made them a priority for law enforcement and officers with UPD Taylorsville Precinct worked diligently, around the clock, in an effort to locate and arrest those responsible for this incident."
Bell said UPD is confident Castrillon was the person in the Elantra who was responsible for shooting at the stolen Altima during the high speed chase. The department is grateful a dangerous individual is now off the streets, Bell said.
Castrillon was booked into the Salt Lake County jail on numerous charges including aggravated assault, receive or transfer of a stolen vehicle, possession of a firearm by a restricted person, felony discharge of a firearm, and use or possession of drug paraphernalia.
Another man, Elvis Andrews, who was with Castrillon at the time of his arrest, was taken into custody and booked into jail for violation of probation or parole, possession of a firearm by a restricted person and use or possession of drug paraphernalia.
The investigation is ongoing, and anyone with tips or information regarding this incident are encouraged to call Unified Police dispatch at 801-743-7000.