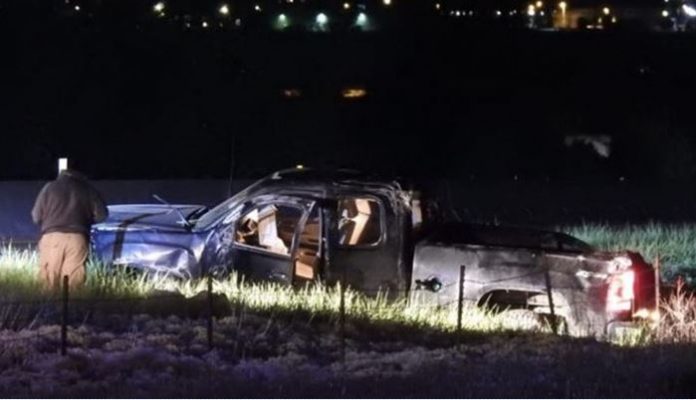 For an updated story, click here.
TOOELE COUNTY, Utah, (Gephardt Daily ) — Police investigators are trying to determine the cause of a fatal rollover accident in Tooele County early Tuesday morning.
Utah Highway Patrol Lt. Shawn Judd told Gephardt Daily troopers were called to the scene in Stansbury Park just before 1 a.m. When they arrived they found a heavily damaged full-sized pick up truck had rolled multiple times while heading north near the intersection of SR 36 and Bates Canyon Rd.
Judd said it appeared he driver of the truck — described as a male in mid 50s — drifted off the right side of the highway before overcorrecting to the left and slamming into a concrete barrier. The pick up then landed in the southbound lanes, ejecting the driver who was pronounced dead at the scene.
Judd said the initial investigation suggests excessive speed and alcohol played a role in the crash. He also said the driver was not wearing a seatbelt.
Due to amount of debris in the roadway investigators said it would take hours to reopen SR 36 which was closed in both directions. He also said troopers were combing the area in the event others were also thrown from the truck.
The victim's name was being withheld pending notification of family members.
Gephardt Daily will update this story as more information becomes available.