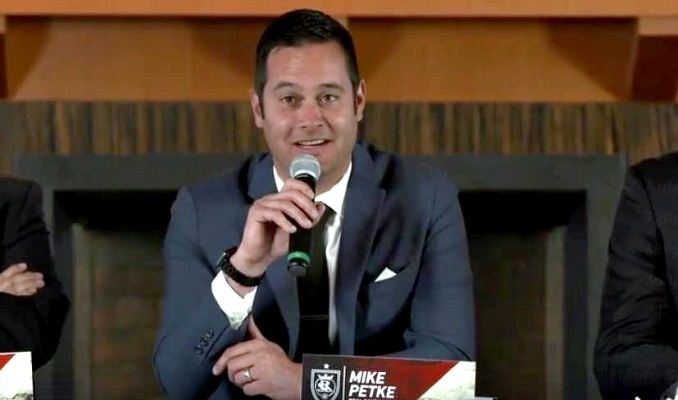 SANDY, Utah, Aug. 13, 2019 (Gephardt Daily) — Former head coach of Real Salt Lake Mike Petke has issued a statement after his contract was terminated Sunday.
The firing comes in the wake of Petke's hurling of homophobic slurs, in Spanish, at referees after the Leagues Cup game against Tigres UANL on July 24, as reported by several sources.
On July 30, RSL suspended Petke for two weeks without pay. This was in addition to a three-match suspension in Major League Soccer and a $25,000 fine.
Petke's statement, posted on Twitter, reads in full:
"While I may no longer be the head coach, I continue to believe in the players at Real Salt Lake and want to wish them and Coach Juarez the very best in their pursuit of a place in the post season. This is a tremendous group of athletes and it has been by honor and privilege to work with them. Knowing them as I do, I expect nothing but the best.
"On the matter involving the Panamanian official in the game against the Tigres, while I'll never stop bringing passion and all my heart to what I do, it is true that I lost my temper and showed poor judgement. That's why, before my termination, I willingly served the suspension imposed on me by both the league and the team and have already apologized to that official and the league.
"Much has already been said about the Spanish word I used and the different interpretations of it. Regardless of how my actions have been misinterpreted or twisted, I have always respected the rights of all individuals and always will.
"I hoped to continue coaching RSL and, in fact, just after this incident had signed an agreement with the team to do just that. It saddens me that while I held up my end of the bargain, including not speaking about this matter publicly until now, the team has chosen to go the route of terminating my contract. Team ownership and I will have the chance to discuss the club's decision in a forum in the future.
"To the fans of RSL and the people of Salt Lake, thank you so much for all you have done for me, for my family and for the team. Your support and your energy make possible all the good we have accomplished. And for that, I will always be grateful."
Assistant coach Freddy Juarez was named interim head coach for the rest of the season.
On Sunday, the club issued this statement:
"After further deliberations and a series of constructive discussions internally and with various members of our community, we have concluded, pursuant to his employment agreement, to immediately terminate Mike Petke's employment.
"At Real Salt Lake, we have the privilege to represent our great community and fans here locally and on a national and global basis. We hold all of our coaches, players, executives and staff to the highest standards of professionalism.
"As an organization, it is vital that everyone, particularly our leadership, reflects and embodies our core values and the values of our community, treating all people with respect, civility and professionalism. Moreover, throughout our 15-year history, we have championed diversity, acceptance and inclusion throughout our organization, our stadiums and our community. This is a responsibility that we take very seriously."
Petke, 43, had been a New York Red Bulls coach who led the club to two consecutive Easter Conference finals in 2013 and 2014. He was fired in January 2015 and later said he was never given a concrete reason for the firing.
He remained active doing color commentary for ONE World Sports and as director of coaching for the New Jersey State Youth Soccer Association.
Petke was named head coach of Real Salt Lake in March 2017.