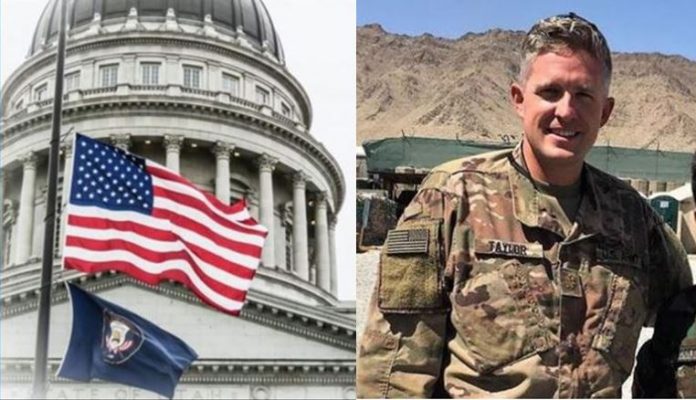 SALT LAKE CITY, Utah, Nov. 13, 2018 (Gephardt Daily) — Gov. Gary R. Herbert has ordered the lowering of the flag of the United States of America and the flag of the State of Utah on Saturday in honor of Major Brent Taylor, who will be laid to rest on that day.
Taylor, 39, was killed in the line of duty on Saturday, Nov. 3, in Kabul, Afghanistan, in an "apparent insider attack," officials said.
He took a leave from his position as mayor of North Ogden to serve with the Utah National Guard in Afghanistan, leaving in January.
The governor issued the following statement: When I think of the service and sacrifice of Major Brent Taylor, I am humbled by his incredible preparation and his courage to willingly serve community and country. Where so many wait until asked, Brent volunteered.
Major Taylor didn't need to serve his local community, but he saw a need and stepped forward to serve the good people of North Ogden. He didn't need to go to Afghanistan this year, but he saw that his country and the people of Afghanistan needed him, so he willingly stepped away from civilian life and put himself in harm's way to protect the freedom of others.
By every measure, Major Taylor was a true patriot. We will remember his enduring love for family, community and country. We will remember his service and his example. He has given the ultimate sacrifice in defending the ideals he cherished. Jeanette and I send our deepest condolences, support and prayers to Brent's wife Jennie, to their children, and to the entire Taylor family.
Flags will be flown at half-staff at all state facilities and public grounds from sunrise until sunset on Saturday only. Individuals and businesses are encouraged to fly the flag at half-staff for the same length of time.
Taylor's body was returned to Utah Wednesday.
The funeral will be held at 1 p.m. Saturday at the Dee Events Center, 4400 Harrison Blvd. Ogden. A public viewing will take place Friday from 5 to 8 p.m. at the center. All are welcome at the viewing and funeral, the family has said.
Taylor will be buried at the Ben Lomond Cemetery, 526 E. 2850 North St. in North Ogden, "the city he loved so dearly," the statement says.
Taylor leaves behind his wife, Jennie Taylor, and seven children, who range in age from 11 months to 13 years.