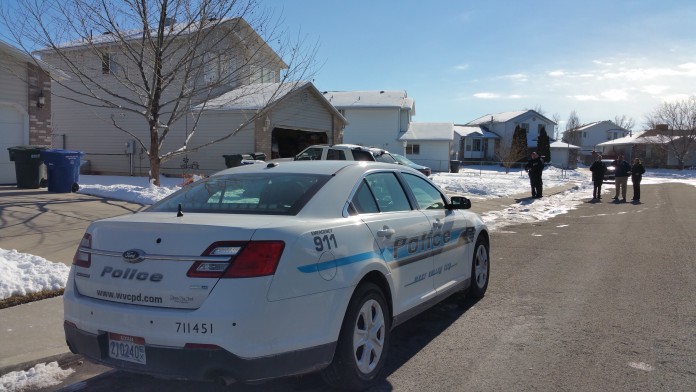 WEST VALLEY CITY, Utah, Feb. 3, 2016 (Gephardt Daily) — The West Valley Police Department has lifted a hard lockdown at Granger High School after a home-invasion robbery in a nearby neighborhood.
WVCPD Lt. Jeff Conger said the robbery occurred at 3763 S. Spring Water Drive at approximately 1:30 p.m.
Conger said police received a phone call fromthe area who reported seeing a man running down the street, wearing red shorts and carrying what appeared to be a handgun.
"Officers arrived on scene, and shortly thereafter we received another call from where the incident took place that four males with bats and knives entered the home," said Conger.
"They used force to enter, hit one of the occupants in the head and one in the hand, and caused some minor injuries. They were looking for money or drugs."
Conger said the suspects were in the house for about 5 minutes, then ran out the door.
"The man who originally generated the report from the witness was one of the victims," Conger said. "He ran out the door and tried to chase them, and was unsuccessful, so we arrived and took over."
The man and the woman living upstairs in the home suffered minor injuries from being hit. The suspects stole a backpack, which contained rent money from man living downstairs. The suspects also used knives to flatten the tires of the victim's cars.
Conger said the high school was shut down as a precaution, and to make sure everyone in the area remained safe.
The victims said they did not know the suspects.
The suspects are described as three tattooed white men, two of whom had their faces covered with masks, and one Hispanic male who was wearing red and didn't have his face covered.
The suspects fled in a newer model blue Dodge Durango. Anyone with any information can call the WVCPD at 801-840-8000.