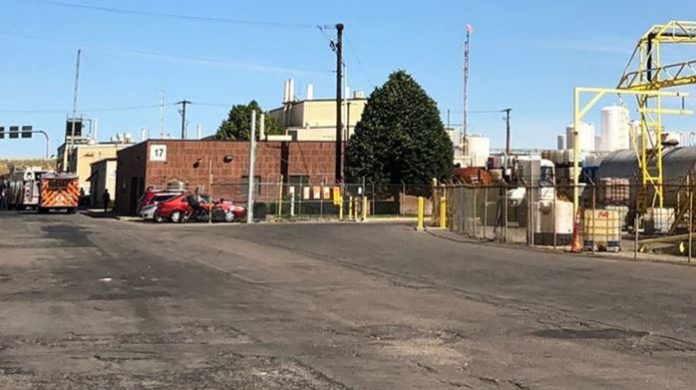 SALT LAKE CITY, Utah, June 19, 2019 (Gephardt Daily) — A railcar spill outside Thatcher chemical on the west side of Salt Lake City has sickened dozens of people and sent two to the hospital.
An estimated 300 to 400 pounds of sulfur dioxide leaked before the spill count be contained, a tweet from the Salt Lake City Fire Department says.
"Total of 56 potentially exposed patients treated by Fire Dept. Members, two transported to local hospital for treatment," a Salt Lake City Fire Department tweet says. "Hazmat crews still on scene to support operations."
The main symptom has been respiratory problems, SLCFD spokesman Ryan Meller said at the scene, at 1910 W. 1230 South. That address falls between Redwood Road and Interstate 215, just north of California Avenue.
"About 8:41 (a.m.), calls came in from several people in the area, from multiple places," Mellor said. "People were saying they started to smell an odd smell. We sent our crews outhere and were able to trace it down to Thatcher chemical, where there were initial reports about a thousand pounds of a product … were spilled from a railcar."
"That spill has been contained. It is no longer leaking, however the product is on the ground, and containment efforts are underway to make sure this product can be taken care of."
Mellor suggested people try to avoid the area. A HazMat cleanup company would handle removing the spilled product, he said.
Fire and police officials' priorities, at that time, were to help the injured, to make sure no one else was hurt, and to make sure no additional chemical spilled from the railcar.
Mellor said Thatcher chemical deals "with multiple hazardous materials."