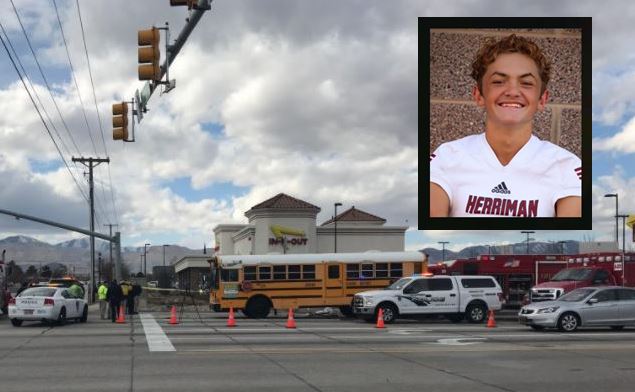 RIVERTON, Utah, Feb. 14, 2018 (Gephardt Daily) — Unified Police officials have identified the victim of a fatal collision of a car and a school bus in Riverton on Wednesday.
Killed was the teenage driver of the sedan, Bryson Hathaway.
"Our thoughts are with the family of 17-year-old Bryson Hathaway, who died today in the crash at 12600 South and Bangerter Highway," said a tweet from the Unified Police Department. "Bryson was a senior at Herriman High School."
Hathaway was on Herriman High School's football team. The team's Facebook page posted the news:
"Herriman Football family, we are devastated and heartbroken by the news of losing one of our brothers," the post said.
"Bryson Hathaway was in an automobile accident and sadly passed away. Our deepest sympathy and love goes out to his family and his dad, our own coach Hathaway.
"Please hug your kids extra long and remind them to be safe."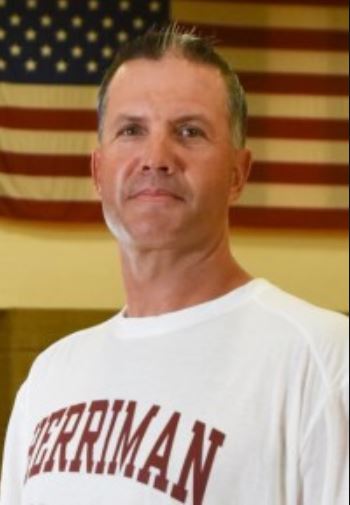 Chris Hathaway is the Herriman High football team's defensive coordinator.
"I'm so sad," one person responded to the post. "My heart is broken. Prayers to his family, friends and loved ones."
"So sorry sending love and prayers to the Hathaway family," another person wrote.
The accident happened at about 1:45 p.m. at 12600 S. Bangerter Highway. The school bus was southbound, waiting for a traffic light to change.
"A vehicle that was also going in the same direction apparently didn't realize the bus was stopped in front of it, and the vehicle hit the back of the bus at a relatively high speed," Detective Ken Hansen, Unified Police Department, said at the scene.
It appears Hathaway never saw the bus, Hansen said.
"There is no indication (such as skid marks) that the driver of the car saw the bus stopped in front of it," Hansen said. "The amount of damage to that car is unbelievable."
Hansen estimated the car was traveling at 50 mph.
On the school bus, the only rider, a ninth-grade girl, received minor injuries. Her parents took her to a hospital as a precaution, Hansen said. The bus driver, a man in his 40s, was unhurt but badly shaken, Hansen said.
Due to the severity of damage to the vehicle, officials were not immediately sure whether Hathaway was alone in his car.