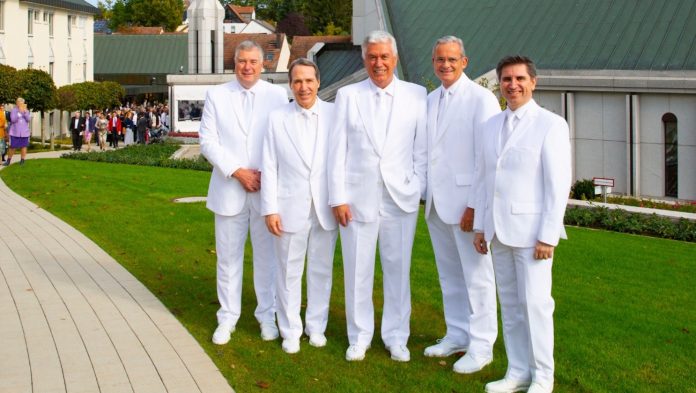 FRANKFURT, Germany, Oct. 20, 2019 (Gephardt Daily) — Elder Dieter F. Uchtdorf of the Quorum of the Twelve Apostles of The Church of Jesus Christ of Latter-day Saints was invited by Church President Russell M. Nelson to rededicate the Frankfurt Germany Temple.
Accompanying Elder Uchtdorf, a German native, in that assignment were Elder Patrick Kearon of the Presidency of the Seventy and the three members of area presidency, said a news release from Church officials Sunday.
The rededication took place in the temple on Sunday. A youth devotional was held the day before in a nearby meetinghouse.
"When you come to the temple, always think of Jesus Christ because he is the center of our doctrine," Uchtdorf told the youth. "We are The Church of Jesus Christ and you are the Latter-day Saints. You are a blessing to this part of the world. God loves you, he trusts you. Please, have trust in him, too."
"Follow Jesus Christ and I promise you a path of joy, confidence, and hope," said Uchtdorf's wife, Sister Harriet Uchtdorf. Elder Erich W. Kopischke of the Seventy, second counselor in the Europe Area presidency, explained: "The Lord has always — at all times — given his children symbols to which they could turn. … The temple is a symbol for eternity and a symbol for the love our Heavenly Father has for you."
The temple will mainly serve members of the Church living in West Germany, Austria, Bahrain, United Arab Emirates, Croatia, Serbia and Slovenia. There are over 35,000 members of the Church in Germany in 152 congregations.
The Frankfurt Germany Temple closed in 2015 to accommodate a renovation and enlargement of the temple, including a new underground baptistry. It was originally the fifth temple built in Europe and the second built in the current boundaries of Germany, following the Freiberg Germany Temple. The temple was originally dedicated in August 1987.
"Care was taken to preserve key historic features of the temple's exterior, such as the stone cladding and copper roof," the news release said. "New trees and shrubs were added to the landscape to complement the existing plantings on the temple grounds and to harmonize with vegetation generally found in the Friedrichsdorf area."
Among the guests at the two-week open house in mid-September were reporters from German news media, including Frankfurter Allgemeine Zeitung, Süddeutsche Zeitung, Frankfurter Rundschau, Die Zeit and Deutschlandfunk. Catholic and Protestant news outlets also reported on the temple at great length, the news release said. A Muslim blogger wrote about his experience praying inside the temple, invoking a blessing upon his hosts.
There are currently 217 temples worldwide that have been announced or are operating, under construction or being renovated.