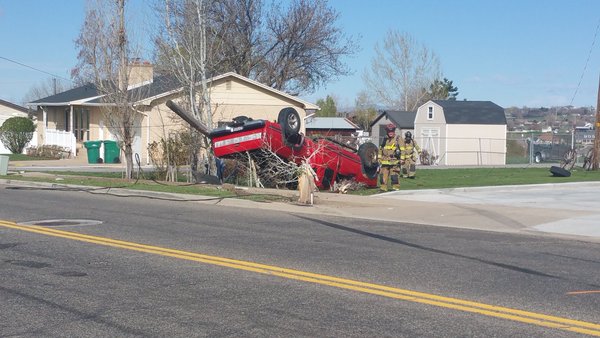 LAYTON, Utah, April 5, 2016 (Gephardt Daily) — Police are investigating a single-vehicle rollover Tuesday morning in Layton that took out a tree and power pole.
Layton City Fire spokesman Doug Bitton said the accident happened at 10 a.m. near 1800 E. Cherry Lane.
"A woman lost control of her truck and rolled into the yard of a home on this corner," Bitton said. "She hit a power pole and tree, and the power line that feeds to the home came down."
Bitton said the power to the home was affected, but no one else in the area lost power.
"The woman was transported to the hospital and I am not currently aware of her condition," Bitton said. "Her injuries, however, were not life-threatening when she left the scene of the accident."
Investigators are still trying to determine why the woman lost control and are not certain if drugs or alcohol were factors.
Bitton said the power to the home has since been restored.