WEST VALLEY CITY, Utah, Sept. 26, 2016 (Gephardt Daily) — A man in custody after hitting two West Valley City police vehicles during a chase Monday morning is also a person of interest in a high-profile Salt Lake City homicide case, according to police.
Jonathan Ivan Padilla-Lopez, 23, has been booked into jail on two counts of aggravated assault on a police officer, evading, possession of a firearm by a restricted person and additional charges by the Salt Lake City Police Department.
Padilla-Lopez is also a person of interest in the July 5 killing of 16-year-old Paris Gustin, and was interviewed by homicide detectives.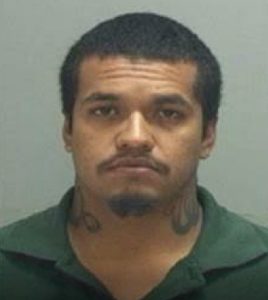 In August, the SLCPD identified Padilla-Lopez and Fortunato Nato Villagrana as persons of interest in the killing of Gustin. The men were identified through tips from the public and the investigation of homicide detectives, according to an SLCPD news release.
Gustin's body was found inside a vehicle at 985 S. 1100 West after dispatchers received multiple calls of gunfire around 4 a.m. Investigators believe the teen may actually have been shot in the vicinity of 600 N. 1000 West, where detectives discovered numerous shell casings.
This latest incident began Monday morning at approximately 3:40 a.m. when officers received a tip that Padilla-Lopez was in West Valley City.
Police also identified the vehicle being driven by Padilla-Lopez, described as a black Honda Civic.
Officers conducted surveillance of the vehicle after Padilla-Lopez drove it from West Valley City to the Salt Lake City Avenues area, and attempted to conduct a stop on the vehicle as it pulled into a driveway at 10th Avenue and L Street.
"The driver put the vehicle in reverse and rammed a WVCPD officer's vehicle, which disabled it in the roadway," the news release said. "The suspect then pulled back in the driveway and backed out around the officer's vehicle.
"The suspect then attempted to strike another officer's vehicle and fled. The officer initiated a pursuit of the vehicle for approximately one minute and then terminated due to the reckless driving behavior of the suspect in the residential neighborhood."
The suspect vehicle was found abandoned a short time later at 1000 E. Kensington Ave. A K-9 officer with the SLCPD conducted a track of the vehicle with his bloodhound. The officer and his K-9 located the suspect hiding in a yard a couple blocks away.
When Padilla-Lopez was taken into custody, he was found to have a loaded handgun lying at his feet, and additionally was found to have just stolen the suspect vehicle. Padilla-Lopez was turned over to the custody of SLCPD detectives to be interviewed.
There were no injuries to officers or the suspect.
Police are asking anyone who may know the location of Villagrana or who has any additional information about the Paris Gustin case to call 801-799-3000. Anonymous tips may be sent by text to 274637. Please start text with TIPSLCPD, which routes it to the police department. Then include any relevant information. Reference: Homicide case #16-120239.