SALT LAKE CITY, Utah, June 1, 2023 (Gephardt Daily) — Mayor Erin Mendenhall has announced the winners of Salt Lake City's Ballpark NEXT Design Competition, which awarded $30,000 in prizes.
The competition called for proposals from the public for how the city could reimagine, redevelop and activate the ballpark site and surrounding city-owned properties.
"This competition has garnered a multitude of ideas and concepts that will provide inspiration for the Ballpark site's future," Mendenhall said. "Salt Lakers, especially engaged residents in the Ballpark neighborhood, are unequivocally passionate, creative, and insightful. The conclusion of the Ballpark NEXT Design Competition marks the beginning of what will be a robust community engagement process that will include many opportunities for public involvement."
All 123 proposals were reviewed by an internal city team that narrowed the field down to 30 semi-finalists – 10 in each of three categories: Resident, Post-Secondary Student, and Professional. A community-based selection committee selected nine finalists – three in each category – that were put to a public vote that wrapped up last week. In all, 4,607 votes were placed over the course of the 10-day voting period.
There is no guarantee any of the designs will be the final selection.
The contests winners are:
Resident – $5,000 prize
Oscar's design envisions a sky garden concept that included creative reuse of the existing structure and featured an elevated park, space for local restaurants and businesses, a year-round biodome and greenhouse, and event space. The design also incorporates sustainable practices such as solar power and LED lighting. The overall concept promotes a place to support physical and mental wellbeing for all.
Post-Secondary Student – $10,000 prize
Nicholas Tate Barney and team from Utah State University.
This design envisions an urban-living environment to serve those living in the neighborhood as well as those coming to visit. The concept focuses on enhancing social vibrancy, increasing the affordability and attainability of housing, creating a dense urban environment and entertainment zone with beautiful urban design quality. It includes a ballpark market and park, dining opportunities, food truck space, a duck pond and boardwalk, garden space, walking trail and skating ribbon.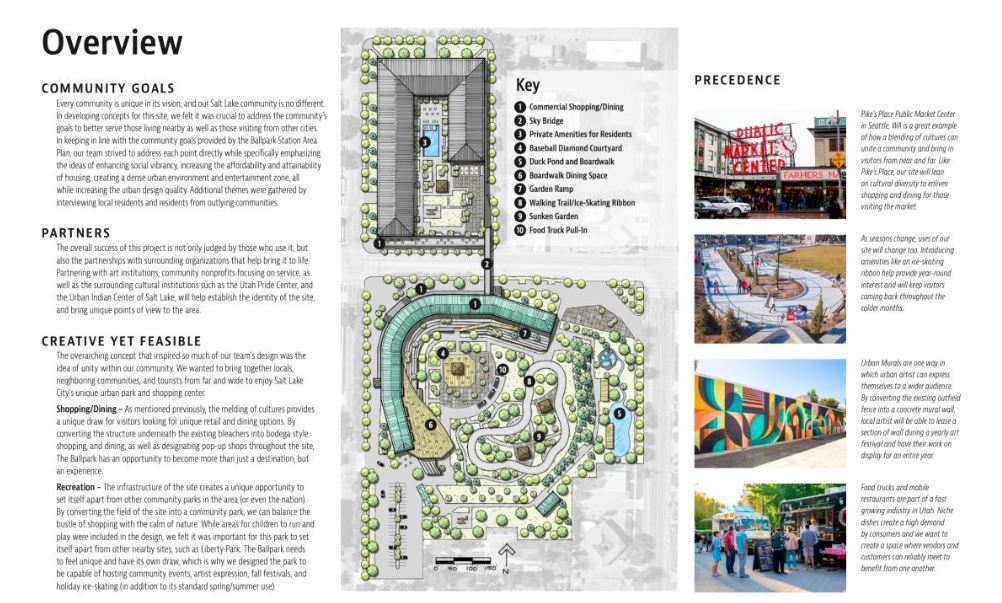 Professional – $15,000 prize
This design re-imagines the Ballpark as a hub for locally-owned small businesses anchored by a women's multi-sport venue. Their "She Plays Here" Ballpark concept creates vibrancy through community-focused uses, commerce, and walkability. From women's sports to a concert venue, and green space to local business incubator space, this concept aims for inclusive year-round activation.
The submitted concept proposals and winners may be used to inform and inspire the city's next steps in the redevelopment of the properties. More information can be found at: www.ballparknext.com.