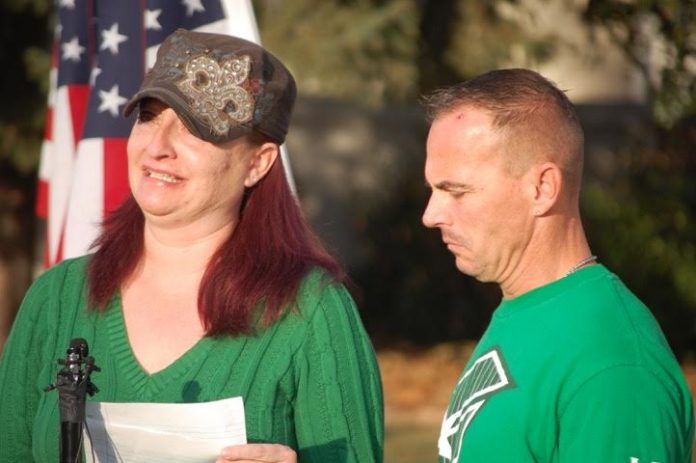 WEST VALLEY CITY, Utah, Nov. 6, 2016 (Gephardt Daily) — Fighting through her fresh grief, the mother of a West Valley City police officer killed in the line of duty early Sunday morning paid tribute to her firstborn son, who "wanted to be a police officer his entire life."
Outside the family home, Jenny Brotherson spoke about her son Cody, and his dedication to his profession. She was surrounded by family members, including husband Jeff, sons Alex and Braydon, and Cody's aunt Tari Turner.
"Thank you for giving us the opportunity to share the memory of our son, Cody James Brotherson, our amazing and beautiful son, brother, nephew and boyfriend," Jenny Brotherson said.
"He wanted to be a police officer his entire life. That dream was realized three years ago but was cut short this morning. He was the best person any family could ask for. Cody had the most loyal heart and would do anything for those he loved. Cody was the family jokester and protector."
Brotherson thanked the West Valley City Police Department for its love and support after her son was hit and killed by a car fleeing a crime scene. She asked the public to join in her appreciation for the department.
"As a family, we ask that when you see a police officer, you give them the support and respect that they deserve," Brotherson said. "Cody was the most generous, helpful and understanding human being, and we're so proud of what he did with his life."
She said that funeral services are being planned and will be announced soon.
"At this time, we ask for privacy as we grieve the loss of our hero and our firstborn," Brotherson said.
Cody Brotherson, 25, is the first officer to die in the line of duty since West Valley City Police Department was formed in 1980, Police Chief Lee Russo said in a news conference Sunday morning. Brotherson, who was West Valley City born and bred, had been with the police department since December 2013.
"Cody was one of my first hires," Russo said in a statement that followed Jenny Brotherson's. "I came in in August of 2013, and Cody was hired in December of 2013. He was part of the organization's change and future.
Russo said the family wanted to speak so people would think of Cody Brotherson not just as some officer who died in the line of duty, but as the individual he was, and to understand "… his commitment to law enforcement," the chief said, " to understand this was a young man who committed himself to the service of communities, to protect people.
"This was a young man born and raised in West Valley that chose to serve his own community, a true hometown hero," Russo said.
"The tragedy that befell Officer Brotherson, Russo said, was a reminder to the community, his fellow officers and law enforcement officials everywhere, "… to understand how fragile and precious life is, and understand how these officers go out every day and face the dangers that they do to keep people safe, to prevent crime, and take criminals off the street, at sometimes very high cost."
"Russo said counseling will be available for Brotherson's fellow officers, and he urged those in the West Valley City Police Department to have the difficult talk with loved ones about the potentially high cost of protecting the public from criminals.
"This acts as a reminder for our officers every day now to talk to their families, keep their families involved, answer those questions, because families are worried when we go out the door about will we be coming back home. That's a conversation that needs to be had, a stress that needs to be relieved, and there are services out there to help."
"A news release issued Sunday morning by the WVCPD outlines what is known about the series of events that claimed Brotherson's life:
"West Valley City police officer observed a suspicious vehicle stopped in the area of 4100 South Redwood Road shortly after 3 a.m. Sunday morning. The officer observed three people heading toward the Boulder Pines Apartment Complex located at 1535 W. 4040 South. Officers in the area responded and witnessed the suspects steal a vehicle from the parking lot of the apartment complex.
Officers attempted to stop the vehicle and the suspects fled. Police then initiated a pursuit of the vehicle heading westbound on 4100 South. An attempt was made to spike the vehicle's tires near 4100 South and Redwood Road, where officers reported the suspect vehicle veering toward them. Approximately 30 seconds later, one of the responding officers called for medical help to assist Brotherson, who had been hit.
Preliminary examination of the scene indicates that Brotherson was outside of his vehicle at 2200 West 4100 South, attempting to deploy tire spikes, when he was hit by the suspect vehicle as it fled westbound on 4100 South. A short distance later, the suspect vehicle left the road and came to rest north of the roadway.
Three suspects are in custody, and are being questioned to determine their level of involvement in the incident.
Other law enforcement agencies will investigate the incident, as required by protocol, to ensure the most impartial results.
Gov. Gary Herbert said flags in Utah will be lowered on the day of Brotherson's funeral.