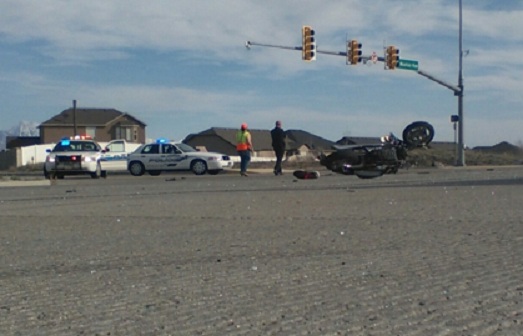 WEST VALLEY CITY, Utah, March 20, 2016 (Gephardt Daily) — A motorcycle rider killed Sunday afternoon in a crash on Mountain View Corridor has been identified.
West Valley City Police Department said in a tweet Monday morning the deceased is 57-year-old Leonard Rich from Taylorsville.
WVC Lt. Dallan Taylor said the accident happened at 4:30 p.m. at the intersection of 6200 South and Mountain View Corridor.
"When our officers arrived on scene they found a man who had been riding a motorcycle west on 6200 South had collided with a white passenger car headed north on Mountain View," Taylor said.
"From what witnesses have said, it appears the man on the motorcycle ran a red light. We are not sure why he did not stop."
Taylor said Rich was extremely critical condition when he was airlifted to the hospital, where he later died.
The female driver of the passenger car involved in the crash was not injured.
No helmet was found at the scene. Taylor said it does not appear speed was a factor.