WEST VALLEY CITY, April 17, 2018 (Gephardt Daily) — Elijah Smith was fatally shot by a West Valley City Police officer on April 8 because of bad choices he made at the scene, WVCPD Chief Colleen Jacobs told reporters at a Tuesday news conference.
Not because he was black.
Smith, 20, died after police say he stole cellphones from a business, fled the scene and rushed past scared children into a home, then hid in the garage; refused to show that his hands were empty when ordered to multiple times by police; then pulled an object from his pocket and thrust it at police.
"I am sad for their loss," Jacobs said, when asked what she would say to the man's family. "It is an unfortunate incident."
"He did not lose his life because of his race. This was because of criminal actions," she said, adding that in a 24-second exchange with police, they demanded he show his hands 15 times.
He showed his left hand, but continued to hide his right hand in his pocket, Jacobs said. After an officer fired three shots and Smith was fatally shot, officers found a screwdriver near his body. Jacobs said it had been "modified," but she was not sure in what way.
Jacobs released the footage from the three officers' body cameras to the media in hopes of clearing up exactly what happened at the scene. Facebook groups, including Black Lives Matter, have accused West Valley City of shooting the young man because of his skin color.
Jacobs said Smith fled from police, who were called by a business reporting he had stolen cellphones.
Smith had knocked on the door of a random house, at 3580 S. Jenelles Bay near 2140 West, and the door was answered by one of the three children inside, who were 13, 10 and 9, Jacobs said.
Jacobs said Smith reportedly told a child he needed a drink of water, then ran toward the kitchen, to which the garage was attached. The child asked him to leave, but Smith did not, she said. The children told investigators they had been scared.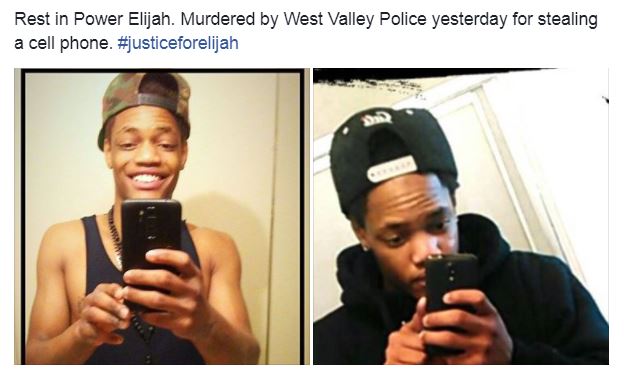 "Rest in Power, Elijah," said a post that went up April 9 on the Black Lives Matter-Utah Facebook page. "Murdered by West Valley Police yesterday for stealing a cell phone. #justiceforelijah."
On Tuesday, following the news conference, an administrator on Black Lives Matter-Utah posted the following:
"This is called murder. This is also called editing. They stopped the film and edited it before the officer shot him."
Black Lives Matter-Utah has held peaceful protests in the past when its membership believes people were shot or killed in part because they were black, and that a white person would likely have been spared in the same circumstances.