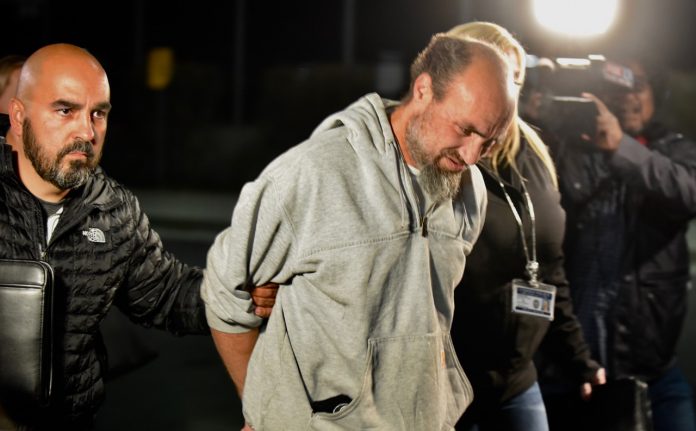 SOUTH SALT LAKE, Utah, Nov. 27, 2018 (Gephardt Daily) — Officials have released more details in the death of South Salt Lake Officer David Romrell, who died after being struck by a car while investigating a burglary Saturday night.
Investigators say Romrell, 31, was run over by two suspects outside a business near 3575 South and West Temple Street.
Suspect Jeffrey Don Black, 43, who was arrested Monday night, will be charged with:
First-degree felony aggravated murder
Second-degree felony burglary of a dwelling
Second-degree felony obstruction of justice
Third-degree felony aggravated assault; attempt with force or violence to injure
Three counts of class A misdemeanor failure to stop at the command of a law enforcement officer
Class B misdemeanor interference with an arresting officer
Class C misdemeanor operating a vehicle without a license or registration (suspended or revoked).
A second suspect, Felix Anthony Calata, 32, was shot and killed by police.
A probable cause statement released by the 3rd District Court Tuesday morning said the incident began when South Salt Lake Police officers were dispatched to a burglary in progress.
"Upon their arrival, a black Chevrolet Impala began accelerating towards the officers who were outside of their vehicle and giving loud commands identifying themselves as police and yelling at them to stop," the statement said.
"The driver accelerated to flee hitting Officer David Romrell, who died from his injuries later that evening at an area hospital."
Two men, later identified as Black and Calata, fled from the crashed vehicle.
Calata was shot by police and was transported to an area hospital, where he died from gunshot wounds.
"Jeffrey Black was located hiding inside a boat near where the crashed vehicle was abandoned," the statement goes on.
"Upon arrest, Black did not comply with lawful commands to exit the boat given by officers. Jeffrey Black was interviewed post Miranda after he was taken into custody on Nov. 24. Through investigative efforts, it was learned Jeffrey Black had given false information to the detectives regarding his involvement."
After the initial interview, there was not enough probable cause to book Black into jail so he was released. Officials were then able to develop additional evidence.
On Nov. 26, Black contacted detectives to meet to get his property returned. He was brought in, and after being read his Miranda rights again, Black agreed to answer more follow-up questions regarding his involvement in the incident.
"Jeffrey Black admitted to going with Felix Calata to the address of occurrence to collect a debt," the statement goes on. "Jeffrey Black admitted at one point to driving the vehicle during the burglary and was present when Felix Calata was using a crowbar to attempt to enter the building."
Black stated they were unable to gain entry and were going to leave when he saw the police officers with their red and blue lights activated on their vehicles.
"Jeffrey Black stated he heard the police officers yelling 'police stop' and Felix Calata stated 'f–k it' and accelerated, in an attempt to flee, driving towards the police officers. Jeffrey Black stated he believed they ran over what he thought was a mail box. Jeffrey Black stated shots were fired at their vehicle as they kept driving and Felix got out of the vehicle and Jeffrey steered the vehicle towards a pole crashing the vehicle. He then exited the vehicle and fled. Jeffrey Black admitted to running from the police and hiding in a boat for over an hour to avoid capture."
Black is being held without bail, as the court found substantial evidence to support that he committed a felony while on probation or parole, or while free on bail awaiting trial on a previous felony charge.
A previous probable cause statement released on Aug. 16 by Salt Lake City's 3rd District Court said Black was arrested at that time for third-degree felony possession or use of a controlled substance. The traffic stop that day was performed for a series of moving violations.
Black was the driver of the vehicle, and was found to be interlock restricted and unlicensed. The vehicle was state tax impounded and a K-9 sniff was performed. Methamphetamine and marijuana were located. Black stated the drugs were his and he had recently used, and was booked for the felony charge, enhanced for priors.
On Monday night, as Black was being led toward the police car for transfer to jail, he answered a few questions after initially saying "no comment."
"I'm sorry for the officer," he said, after being asked how he felt about Romrell's death.
Asked how he knew Calata, Black said he had known the other man only two or three days.
"I'd only met him a couple times," Black said. "We were going to make some money. It wasn't a business (being robbed), the girl owed him money, so ….
"I'm done talking," Black said, before being asked if he knew Calata, who was driving, had hit an officer.
"I didn't know it was a cop," Black said. "I thought it was a mailbox."
Romrell joined the South Salt Lake Police Department in January 2018.
The Marine veteran is survived by his wife and 4-month-old baby boy.
After his passing, Romrell's body was escorted by a massive police motorcade from IMC to the Office of the Medical Examiner in Taylorsville. Funeral plans are expected to be released later this week.
Romrell was the first South Salt Lake police officer to be killed in the line of duty.