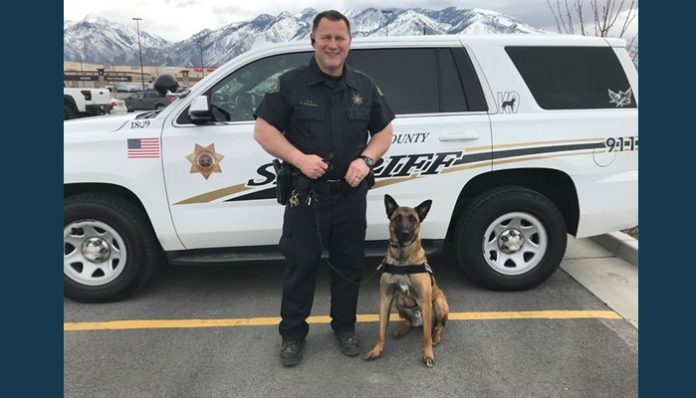 UTAH COUNTY, Utah, March 4, 2019 (Gephardt Daily) — Law enforcement has a warning for inmates in the Utah County Jail.
There's a new deputy in town and he has a nose for crime.
His name is Reikko and he's a good boy.
He's also a recent graduate of the Utah POST K-9 Narcotic School.
Reikko, and his human sidekick, Deputy Rick Shumway, both took the POST training course and will soon be on duty sniffing out contraband inside the county lockup.
Utah County Sheriff's Office posted on Facebook: "We would like to congratulate Deputy Rick Shumway and his K-9 partner Reikko on their recent graduation from the Utah POST K-9 Narcotic School.
"Inmates beware… they will find your stash!!" the post says.
In addition to the daily guidance provided by Deputy Shumway, Reikko's crimefighting efforts will be joined by two other well-trained bipeds, and a fellow K-9 officer.
"Deputy Adam Hickman received his K9 Narcotics Instructor Certification, and Deputy Brad Ryan will be taking narcotics off the street with his K9 partner Axe!" the UCSO said via Facebook.
"Thanks for all your hard work, guys and again, Congrats!" the post read.