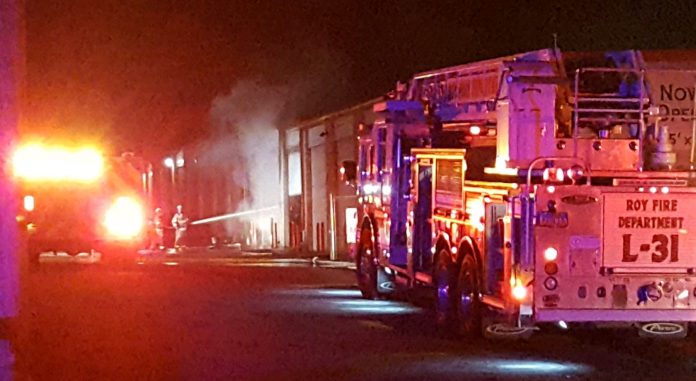 OGDEN, Utah, March 1, 2018 (Gephardt Daily) — Fire crews battled a blaze at a storage facility in Ogden Thursday evening.  Officials said it caused $60,000 in damages.
Crews were called to the fire at Lockaway Storage, at 1355 W. 3300 South, just after 6:35 p.m., Ogden City Fire Department tweeted.
Seventeen firefighters were on scene from Ogden City Fire Department and Roy Fire Department with three ladder trucks, one engine, one paramedic unit, one ambulance and the Battalion Chief, the tweets said.
Crews went into defensive strategy, and reported a partial collapse of the roof of the storage unit.
The primary fire was extinguished within 20 minutes and the two adjacent storage units were not damaged. Crews then extinguished small fires associated with a vehicle inside the unit, then performed salvage and overhaul procedures, the tweets said.
The fire is under investigation by the office of the Fire Marshal; the cause of the blaze has not yet been determined.
No one was injured in the course of the incident.