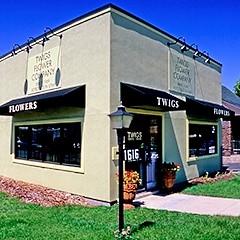 SALT LAKE CITY, Utah, Jan. 12, 2016 (Gephardt Daily) — Police are searching for a robber who brandished a handgun and demanded money from Twigs Flower Company of Salt Lake City.
The Salt Lake City Police Department released a statement saying a man entered the flower shop at 1616 S. 1100 East at 5:17 p.m. Monday. He showed a handgun and stated that he was holding up the store.
The clerk complied and the suspect took off in an unknown direction, according to the SLCPD.
The suspect is described as a white male, 40 to 50 years old, 6 feet tall, with a thin build, sandy blond hair and a thin beard. He had a disheveled appearance, and wore a brown jacket, beanie, bandana and one glove, according to the report.
To share information about this or other criminal activity with the Salt Lake City Police Department, please call 801-799-3000. To remain anonymous, text crime tips to 274637.