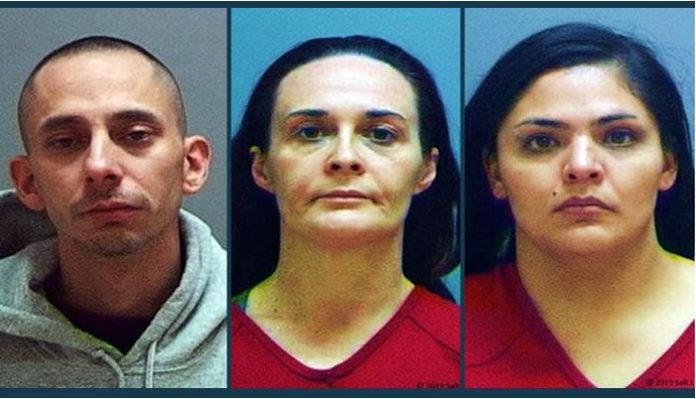 SALT LAKE CITY, Utah, Jan. 20, 2019 (Gephardt Daily) — Police have released new details in the death of a South Jordan man who was shot during a confrontation with tenants inside a Salt Lake City apartment.
The man who died, David Stokoe, 40, was an associate real estate broker, husband, and father of four young children.
A probable cause statement filed in Third District reveals that Stokoe owned the building where he died, an apartment rental property at 878 E. Princeton Avenue.
The man accused of shooting him, Manuel Velasquez, 31, has been booked into the Salt Lake County jail facing charges of:
Murder, a first-degree felony
Obstruction of justice, a second-degree felony
Transaction of dangerous weapon by class A restricted person, a third-degree felony
Discharge of a firearm — shot in direction of person, a third-degree felony
Velasquez is being held without bail.
Also charged in the case are Jessica Louise Reese, (also known as Jessica Miller, an alias); and Diana Yvette Hernandez, 30. Both are charged with obstruction of justice after police say they helped Velasquez clean the crime scene.
Stokoe's body was found hidden in what's been described as a crawlspace associated with the apartment.
The timeline
Salt Lake City police were sent to the apartment on Friday morning after a report of suspicious circumstances. Stokoe, who was headed to the Princeton Avenue apartment in a dispute over the rent, had not been seen or heard from since early Thursday.
"Officers checked an address which the victim owns and rents out, 878 E. Princeton Avenue, and located what appeared to be a crime scene," Velasquez's probable cause statement says.
Velasquez and Reese had recently moved into the apartment, the statement says.
"Since they've been there, they have had issues with the landlord/victim," it says. "Post-Miranda, Jessica Miller (Reese) stated that she thought that her landlord was overstepping his legal rights by entering the apartment without her permission."
Suspects' accusations
"She (Reese) said she had been told by the landlord/victim that she was going to be evicted and needed to be out by 6 p.m. on 1/17/19. Manuel Velasquez stated Post-Miranda that when the landlord/victim came over on 1/17/19, they became engaged in a physical fight."
Velasquez claimed that Stokoe, "'kicked in' the door to the apartment, sparking a verbal argument with Jessica which then escalated into a physical fight/wrestling match between he and the victim."
Reese told police that Stokoe threw some items stacked near the door down the stairs.
"Manuel said that the victim had him in a 'very serious' choke hold and that he became concerned that he was going to pass out. Manuel was wearing a fanny pack with a handgun inside of it. Manuel stated that he was able to free the handgun and fire several rounds into the victim, causing his death."
Reese initially said she wasn't sure who fired the gun, "then changed her story to reflect that it was Manuel," the probable cause statement says.
Reese initially said she she left the apartment after the victim was shot because she was scared, and returned to find the body gone, the statement says.
"Jessica finally stated that she, Manuel and Diana all cleaned up the scene and body. Manuel Velasquez stated he purchased the handgun he used for $200 from an unidentified person. Manuel Velasquez is restricted from possessing firearms."
Attempted cover-up
Velasquez initially told police that Reese had cleaned the crime scene and "taken care" of the victim's body, and that "he had nothing to do with it," the probable cause statement says. "Then, he changed his story to reflect that they both cut up carpet and cleaned up.
"Jessica initially stated that she left and when she came back, the body was gone. She had no explanation for why or how that occurred. Jessica finally stated that she, Manuel and Diana all cleaned up the scene and body."
Detectives had learned that Diana Hernandez was a friend of Velasquez and Reese, and that she was recorded on a grocery store surveillance video purchasing some items later found at the crime scene.
Hernandez was also seen on surveillance video from the area of the crime scene video getting into a stolen white Hyundai sedan, her probable cause statement says.
"Post-Miranda, Diana stated that she did not purchase anything at the Winco for her friends' apartment and also that she wasn't ever inside the apartment.
"Diana then adjusted her story to reflect that she did go inside of the apartment and saw what appeared to be torn out carpet and possible blood on the floor. Another suspect stated that Diana did in fact bring the items purchased at the grocery store into the apartment.
"Witnesses stated that Diana not only assisted with the cleanup after the murder, but directed the placement of the victim's body inside the apartment."
The statement also says that Hernandez arranged for another person to pick up belongings of Velasquez and Reese, to be moved into her own residence.
"Items located in the search warrant served at Diana's included items that had the victim's name on them as well as other personal property of his."
Reese and Hernandez also are being held in jail without bail.
Stokoe's car
At a Friday news conference, before Stokoe's body was discovered, a Salt Lake City Police spokesman asked for the public's help in locating Stokoe's vehicle, a 2015 Cadillac Escalade.
At about 3:55 a.m. Saturday, police in West Valley City located the missing Escalade, and officers from multiple agencies surrounded it for the takedown.
Police later said the man and woman taken into custody were not believed to have been involved in Stokoe's murder, and more likely had borrowed or stolen the car. The woman was released, and the man was returned to jail on charges related to a probation violation.
To see exclusive video of the takedown operation, click here.
● ● ●
A GoFundMe page that says it was created to help pay for Stokoe's funeral can be viewed by clicking here.
###