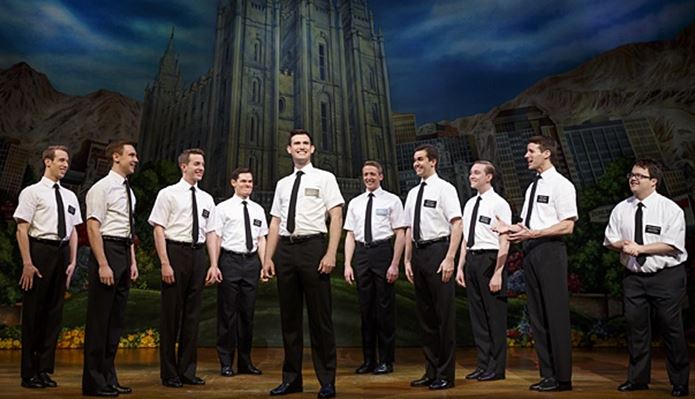 SALT LAKE CITY, Utah, Aug. 21, 2019 (Gephardt Daily) — The glaringly sacrilegious "The Book of Mormon" is still leaving audiences laughing on its third tour to Utah.
The show, by "South Park" creators Trey Parker and Matt Stone, with music by Robert Lopez, is still doing what it set out to: provoke offense and inspire laughter.
And for many members of Utah's dominant religion, it will only succeed in the former.
But that wasn't true for the review night audience, which clearly bought tickets because the show's reputation precedes it.
From pretty much any seat in Salt Lake City's Eccles Theater, those in attendance could watch a turbulent sea of bobbing heads. Some ticket holders dropped their chins to chortle. Others threw their heads back to guffaw. The effect was constant motion to match the nearly constant jokes coming from the stage.
The show satirizes the history and beliefs of The Church of Jesus Christ of Latter-day Saints, which, gamely, has taken out a program ad during at least one tour, inviting ticket holders to seek a more accurate account from an actual Church source.
The award-winning musical tells its story through the eyes of a self-centered missionary, Elder Price, who believes he alone can spread the word of God to the uninformed masses in Africa, and Elder Cunningham, a friendless geek whose version of the Church's sacred scriptures includes various characters from science fiction movies he likes.
The Africans are dealing with more immediate problems, such as AIDS, the demands of the local warlord, and health issues, including scrotum maggots.
Yeah, if you can't handle the mere mention of scrotum maggots, just stay home. The issue comes up more than once. And there are curse words, sex jokes and dysentery humor, and worse.
The show revels in making fun of just about everything about Latter-day Saint beliefs, culture and history. But in the end, it does celebrate the Church traditions of faith, kindness, and helping people in need.
But you do have to wait for the end.
Like all theater productions brought in by Broadway at the Eccles, the singing, dancing, costumes and sets are top notch and seem worthy of the original Broadway production. "The Book of Mormon" won nine 2011 Tonys, including best musical, and a Grammy for Best Musical Theater Album.
"The Book of Mormon" continues nightly through Sunday, with matinees scheduled on Saturday and Sunday. For theater information or tickets, click here.