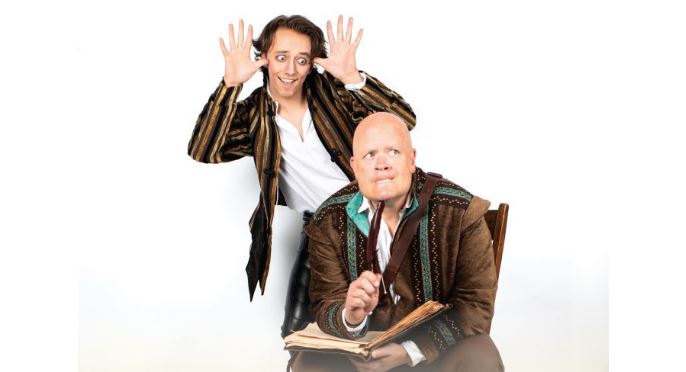 CENTERVILLE, Utah, Aug. 10, 2023 (Gephardt Daily) — "Something Rotten" is happening in Centerville, and it's really funny.
It's a musical with something for everyone.
This 2015 musical, set in the time of William Shakespeare, is for you if you love the Bard, or you hate him. You will relate to it if you've ever felt second best to someone trying to accomplish the same thing. It's for you if you love classic or modern theater, or clever references and wording, or could just use an evening of belly laughs that will leave your abs aching.
The show is at CenterPoint Legacy Theatre, at 525 N. 400 West, Centerville. The plot follows brothers Nick and Nigel Bottom, a theater director and playwright in 1590 who can't get a break because everyone is obsessed with Shakespeare, hailed as the modern equivalent of a rock star.
What the Bottom brothers need to compete is a guaranteed hit. And older brother Nick is just desperate enough to steal a great idea from the future. So Nick pays a second-rate, somewhat scattered soothsayer to provide the name of the play that someday will become Shakespeare's most famous work.
And the soothsayer gets pretty close to saying "Hamlet," but a few off letters send the Bottom brothers in a whole different direction.
"Something Rotten," with book by John O'Farrell and Karey Kirkpatrick and music by Wayne Kirkpatrick, also offers songs, tap numbers, a spy storyline and two love stories, one of new love and one of mature love. Oh, and tons of theater references to provide chuckles on top of the belly laughs.
The show is double cast, and the show reviewed was on a Friday, so the brothers were played by J.R. Moore (Nick) and Zach Watts (Nigel). To remember where you have seen Moore, dress him in your eyes, adding a military inspired skirt suit and a dark-haired up do, and you will remember he played the manic and manly Agatha Trunchbull this spring in CenterPoint's production of "Matilda."
Moore was and is a hoot. As Nick, he is sweet, frustrated, driven and, again, a little manic. Watts as Nigel, the duo's main playwright, is humble, honest, and believably flustered and giddy when he meets an admirer. Both actors are strong singers and are convincing and seamless in their roles.
Playing their ladies are Annie Ferrin as Bea, Nick's quick-witted and proactive wife, and Grace Liljenquist as Portia, a Puritan whose passion for good writing — like that produced by Nigel — vexes her pious father, who fears one passion may just lead to another. Both Ferrin and Liljenquist have great comic timing and top-notch singing voices.
And Scott W. Butler is hilarious as the soothsayer in the Monday/Wednesday/Friday cast, coming oh-so-close to providing information that would truly be helpful. Butler, in a white fright wig, gives off a "Back to the Future" Doc Brown vibe.
And stealing the show every time he comes on stage is Isaac Carillo as the Bard. Dressed to the nines, with moves like Jagger and devilish playfulness, I wouldn't want to compete with him either.
And judging by the previous work of several of the actors I know in the Tuesday/Thursday/Saturday cast, those performances are sure to be strong as well.
Costumes by Tammis Boam and sets by Truxton Moulton both set the scenes and add whimsy. And bringing all the elements together are director Danny Inkley and music director David Martin.
If you are looking for a hilarious Broadway show in a high-quality regional theater production, this is it.
The show runs at 7:30 p.m. Mondays through Saturdays, with a 2:30 p.m. matinee on Saturdays, through Sept. 2. For more information about the theater or for tickets, click here.