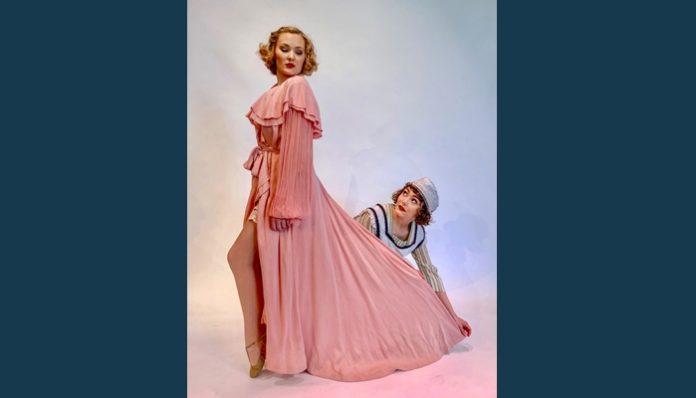 SLAT LAKE CITY, Utah, April 16, 2019 (Gephardt Daily) — So me and my mum saw the world premiere of "Silent Dancer," by Kathleen Cahill, on opening night, last Friday, at Salt Lake Acting Company.
Since then, the show by the Utah-based playwright has just been frolicking around in my head. I can't stop thinking about it. It just won't leave. I think this is because really as a genre, it's absolutely groundbreaking. There is choreography, but it's in no way a musical and there aren't really big, showy dance numbers. The way I can best describe it is when words fail or aren't enough, movement lets the characters speak clearly.
The play gets its world premiere following several developmental workshops both at SLAC (including a New Play Sounding Series reading in March 2017) and Sacramento's B Street Theatre.
Set in the tumultuous world of Manhattan in the 1920s, the play is described by SLAC as a "groundbreaking dance/play/romance about dangerous love, secret identities, criminals, silent movies, and the most famous couple in New York." In it, Cahill populates an original story about an aspiring dancer with real-life historical figures — F. Scott and Zelda Fitzgerald, as well as infamous gangster Jackie "Legs" Diamond. The plot also dips into issues around women, immigration and marginalized groups.
The play is directed by SLAC executive artistic director Cynthia Fleming, with choreography by Ballet West principal dancer Christopher Ruud, who is at the end of his 21st and final season with the dance company. "Silent Dancer" marks his first major project outside of Ballet West since announcing his retirement, and he's assisted with the choreography by his wife, Loren Whitney Ruud.
Fleming's direction is sound, though I do feel the plot of the piece is a little thin. I would have liked to see perhaps a more thorough workshopping process, to give her slightly more meaty written material to work with. What really shines for me and fills out, as I mentioned, the slight flimsiness of the story, is the choreography. It's worth mentioning, by the way, that Fleming also choreographed the 1920s segments, which are full of sassy razzmatazz.
What I found exciting about the movement is that the Ruuds have basically written a dance language in this play that is the strongest method of the communication presented on stage. Each character has a way that they move that is just as revealing as the words they speak, if not more so. This is particularly fascinating with the characters that one does not expect to have choreography; the villain of the piece, "Legs" Diamond, for example, has some particularly scintillating small sleazy sequences.
The cast is a large one by SLAC standards; 10 people in all, and there's not a weak link among them. The standouts for me are Mikki Reeve as Rosie Quinn, William Richardson as Michael Quinn, Austin Archer as Diamond and various film-makery types, and Alice Ryan as Zelda Fitzgerald. All four successfully create fascinating characters that move fluidly between relatively realistic scenes and segments where movement takes over. I could have watched them all night. Noah Kershisnik as F. Scott Fitzgerald does a good job too, though because he has probably the least movement, I would have liked his character to be fleshed out a little.
The production values are jazzy and imaginative, too. The set is designed by Dennis Hassan to look like a speakeasy, with projections on the back wall by Joshua Roberts. The projections at times are of the actors, made to look like a silent movie, and with the theme of the movies that runs through the play, I think that device could have been utilized even more. Some of the costumes by Nancy Hills, I'm guessing, are authentic period pieces, particularly those worn by Ryan, and are gorgeous. Dialect coach Adrianne Moore also does a great job with the dialects — most of the characters have to master a Manhattan, New York dialect, while Ryan as Zelda Fitzgerald, takes on a Montgomery, Alabama dialect.
As a whole, the show is presenting a genre that is new to Salt Lake City and to theatre as a whole, and I highly recommend it. It's also very interesting to discuss. My mum and I had a long conversation about it, and any piece of theatre that gets people buzzing and feeling like they're seeing something that really hasn't been done before is definitely worth attending.
"Silent Dancer" runs through May 12 at 7:30 p.m. Wednesday through Saturday, and Sunday at 1 p.m. and 6 p.m. Additional performances are April 20 at 2 p.m., April 23 at 7:30 p.m., April 30 at 7:30 p.m. and May 11 at 2 p.m. Tickets are $15 to $44, available by phone at 801-363-7522, or online here. SLAC is at 168 W. 500 North, Salt Lake City.