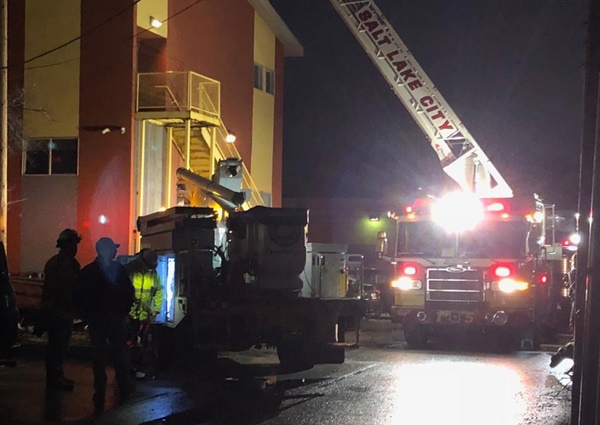 SALT LAKE CITY, Utah, March 22, 2019 (Gephardt Daily) — Fire crews were at the scene of a two-alarm blaze in an apparently abandoned two-story building Friday night.
The fire was reported shortly after 7 p.m. at 942 S. 200 West.
Crews arrived to find dense smoke coming from an opening in the structure, but they had some difficulty locating the actual fire, which turned out to be in the basement.
They worked at venting the smoke while they gained access to the lower level, but the blaze was soon upgraded to a two-alarm fire, and crews went into defensive mode.
They returned to an offensive attack on the fire at about 8 p.m.
At 9 p.m., Salt Lake City Fire Department tweeted that the fire is out and crews are in the process of cleaning up.
No injuries were reported in this fire.
Utah Transit Authority tweeted at 7:31 p.m. that the rails are blocked at 900 South, and a bus bridge has been set up from 900 South to Ballpark. It continued: "NB Green will stop at Central Pointe, SB Green will stop Arena to connect to Blue Line."
A later tweet from UTA said:
TRAX Update 8:18 pm: We've received word that this incident will most likely continue to end of service tonight, so please remember that if you're taking Green Line, transfer to Blue SB at Arena or NB at Central Pointe. Bus bridge from 900 S to Ballpark.