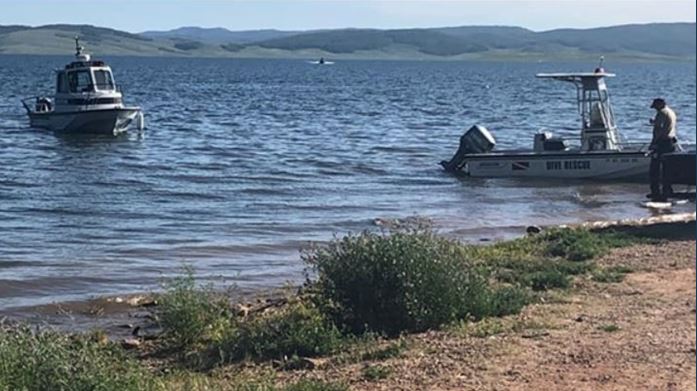 For an updated story, click here.
WASATCH COUNTY, July 19, 2019 (Gephardt Daily) — Searches continue Friday morning, for two brothers whose boat was found Thursday, running but empty, in the Strawberry Reservoir.
"We haven't had as much success as far as indicators (as on Thursday) that are solid for us, but we're working hard to find them," Wasatch County Sheriff Jared Rigby said at a news conference Friday morning
On Thursday, searches located some shoes and a hat believed to belong to the men, Rigby said.
"These gentlemen come with other family members and come to Strawberry frequently," Rigby said. "Their family says they are creatures of habit and always go the same route," so that's the route searchers are focused on.
A caller first reported the boat, idling near shore, at about 2:30 p.m. Thursday.
"When we got to the boat it was somewhat beached on the shore," Rigby said. "The boat motor was running. Fishing equipment was set up, and out, and there was a fish that was on one of the poles, and the net the family said was there was gone. So we run off of different theories, and one of the theories was that yes, they were trying to net a fish and something happened."
Family members stayed in the area overnight, Rigby said.
The search area is set into quadrants, with search and rescue teams that have arrived from around the state, the sheriff said. More teams are still traveling in.
The shoreline also has been searched by people on foot, by helicopter and by boat, he said. The depth of the reservoir averages about 80 to 90 feet, Rigby said.
Its unknown whether missing lifejackets might be with the men or at the homes of other family members, Rigby said.
The water temperature Thursday night was about 66 degrees, he said.
"A person can work through that and live, but it is cold," Rigby said.
Wasatch County Search and Rescue, the State Parks, the Utah DPS Helicopter Team, and Summit and Utah counties are among those assisting.