SANDY, Utah, Oct. 10, 2019 (Gephardt Daily) — A traffic accident in Sandy Thursday morning sent a semi over a retaining wall, down a 25 foot drop, and let loose about 500 cases of Bud Light into the parking lot of a ward house of The Church of Jesus Christ of Latter-day Saints.
The semi driver was pinned inside the truck, which landed with the driver's side of the cab down. He was extracated and taken to an area hospital in serious condition.
The accident happened at about 6:15 a.m.,  Ryan McConaghie, Deputy Chief Sandy Fire Department, said at the scene. The accident location was the intersection of 11400 South and 1300 East, right by the LDS Church's Crescent Park Third Ward.
McConaghie said the accident involved a gray pickup and the semi. The pickup driver was able to stop at the top of the retaining wall.
"The driver of the semi had to be cut out of the truck, extracated, was transported to the hospital in serious condition," McConaghie said, adding that operation took 30 to 45 minutes.
"The driver of the other vehicle involved was evaluated on scene and not transported. Another transport occurred because of a passerby who stopped, intending to render aid, and she attempted to climb off the wall, and fell and twisted her knee."
The would-be Good Samaritan was transported to a local hospital to be checked out.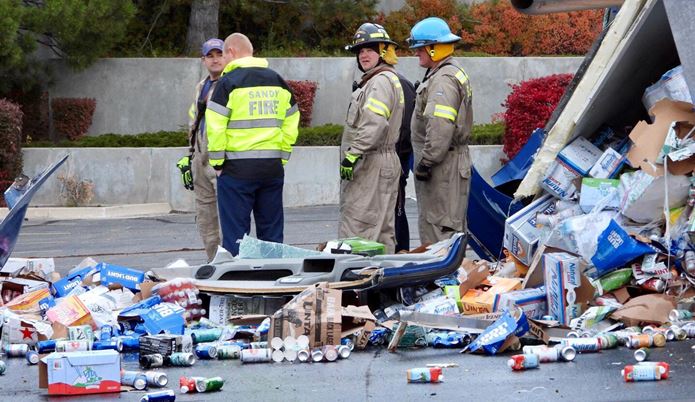 Police crews also responded, as did the Health Department, McConaghie said. HAZMAT crews were called in because the semi's two fuel tanks were split open and spilled diesel.
"HAZMAT crews were also called to try to dam it and keep that product from going into the storm drain," McConaghie said. "There was a lot of content from the semi that also flew out  and was leaking, but that wasn't the concern, it was the diesel."
McConaghie said at about 8:30 a.m. that the next order of business would be to call for a heavy extrication truck to remove the semi from the wall.
"Fortunately wasn't a Sunday where parking lot would have been full of people," he said, referring to the semi's landing site.