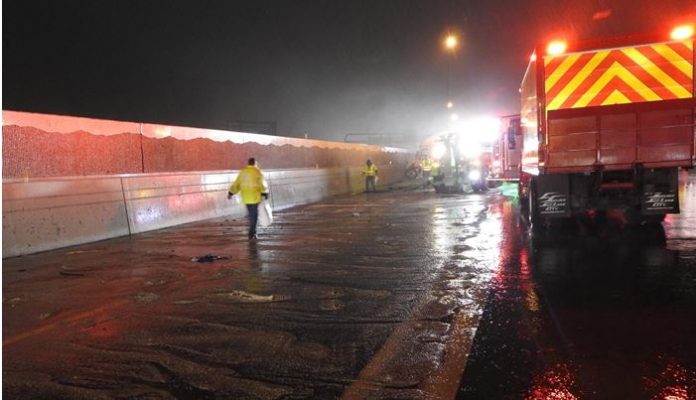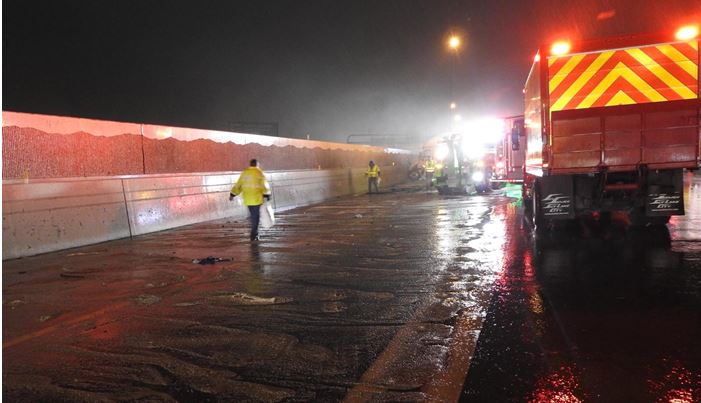 SALT LAKE CITY, Utah, May 17, 2019 (Gephardt Daily) — A semitrailer jackknifed on southbound Interstate 15 and spilled more than 50 gallons of fuel on the freeway, blocking four lanes of Friday night traffic and creating a Hazmat situation.
Utah Highway Patrol Trooper Cody Ohlau said the single-vehicle crash near 900 South was still under investigation late Friday night, and officials had called for a heavy-duty truck to come and haul the disabled semi off the road.
"The driver lost control," Ohlau told reporters, but it wasn't known if the crash was weather-related or if any other factors played a role.
The driver was transported by ambulance to the hospital, where troopers were hoping to interview him. There was no word on the driver's condition, but Ohlau said he appears to be "doing OK."
As for the 50 to 70 gallons of fuel that spilled onto the road, a Hazmat crew was on scene cleaning up, and Ohlau said the Health Department would make sure there was no residual hazard to the public.
He emphasized the need for drivers to slow down when the roads are wet and to stay alert. "Don't drive tired," he said, "because it's just like driving impaired."
Pay attention to the vehicles around you and don't drive distracted.
"If you're driving, that's your task."