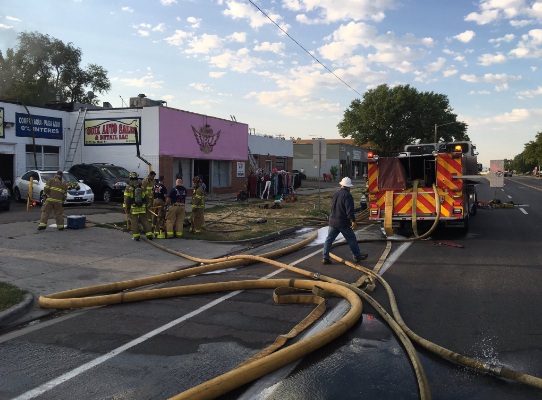 SALT LAKE CITY, Utah, Aug. 1, 2016 (Gephardt Daily) — A total of 40 firefighters battled a three-alarm fire at a Salt Lake City boutique Monday morning.
Salt Lake City Fire Department spokesman Jasen Asay said in a news release that at 6:32 a.m., crews responded to a three-alarm structure fire at Kitoko Boutique, 1381 S. Main St.
Asay said first-arriving crews saw heavy smoke coming from the structure, and quickly called for a second-alarm response. After firefighters got control of the fire on the first floor, they realized there was fire coming from the area above the ceiling.
"A third-alarm response was called in order to make sure the necessary resources were available to keep the fire from causing severe damage throughout the structure, which contains several businesses," the news release said.
"Crews had the fire extinguished within 40 minutes of arrival, limiting the damage to the first and second floors of Kitoko Boutique. Firefighters also removed several items of clothing from the shop, in order to salvage as much as possible."
Investigators determined that the fire originated on the second floor of the boutique in a storage area that had apparently once been used as a residential area. Firefighters accessed the area through a heat vent, but after extinguishing the fire they noticed a set of stairs.
Originally, it appeared the access to the stairs on the first floor had been blocked by a wall, however during the investigation it was determined that there was access to the stairs on the first floor.
The cause of the fire is undetermined.
No injuries were reported, and no one was in the structure when firefighters arrived.
The extent of damage caused by the fire is not yet known.