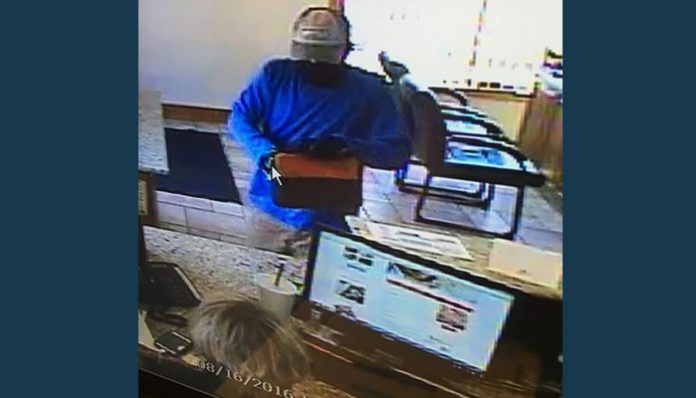 SPANISH FORK, Utah, Aug. 16, 2016 (Gephardt Daily) — The Spanish Fork City Police Department is asking for help locating a suspect who robbed a credit union with a handgun Tuesday morning.
Officers from the SFCPD responded to the Pacific Horizon Credit Union, at 375 E. 300 South, on a report of a robbery at approximately 10:55 a.m. Tuesday, according to a prepared statement.
A man entered the credit union and instructed the teller to place cash into a black bag that he was carrying, the news release said. The bag is described as a black and tan handbag.
The suspect was wearing a black ski mask, black sunglasses, black gloves, tan pants, a gray hat with a white front and a long-sleeve blue shirt. He is described as Caucasian, approximately 6-feet tall and 180 pounds, with a slender build.
The man fled the credit union westbound on foot, but it is not known if he then subsequently left the area in a vehicle.
Officers arrived within seconds and a search perimeter was assembled. Officers from the SFCPD and neighboring agencies have searched the area, with assistance of K-9 units, and have been unable to locate the suspect. Citizens within a six block area were contacted via the city messaging system and advised of the incident.
The employees of the credit union were not injured. This is the second armed robbery to have occurred at the credit union. The first robbery occurred on May 18 of this year, and the physical characteristics of both suspects are very similar. It is unknown if the same person robbed the credit union both times.
If anyone has information in regards to this incident please contact the SFCPD at 801-804-4700.