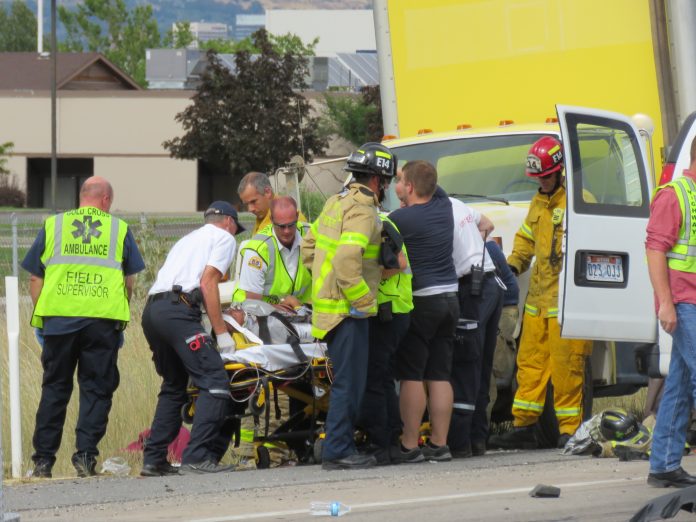 WEST VALLEY CITY, Utah, July 9, 2016 (Gephardt Daily) — A man was critically injured Saturday afternoon when he pulled onto State Route 201 in West Valley City and hit the back of a truck that had pulled over for mechanical problems.
"The white pickup truck had pulled over, and was trying to get get back in traffic," said Sgt. Rich Nielson, Utah Highway Patrol.
A van coming up the on ramp at 3200 West hit the back of the pickup, which had not yet accelerated to highway speeds. The driver of the white van was transported by Life Flight.
"We had to extricate him, and that took about 30 or 40 minutes," Nielson said. "He had some pretty severe injuries to his left leg."
Nielson described the victim as about 37-years-old.
James Barker was on the on ramp right behind the white van, and stopped to see if he could help the injured man.
"He was in a lot of pain," Barker told Gephardt Daily. "I saw blood. The door was crunched.
"I went to open it and saw just how pinned he was, with the steering column. I just kept telling him not to move. He was trying to push it up so he could get the pressure off, and I knew if he got the pressure off he could bleed out before anybody got there. Then a medic showed up and started working on him."