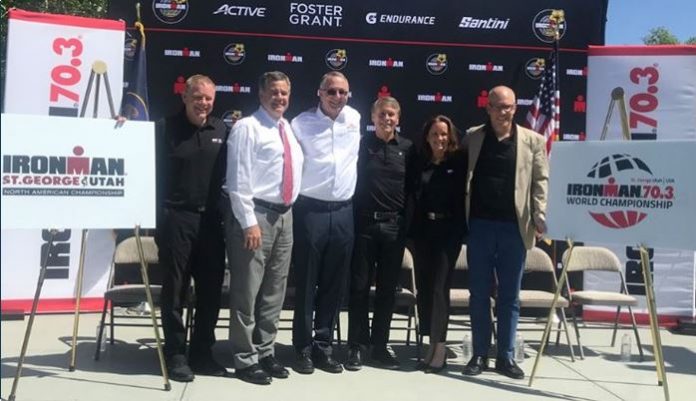 ST. GEORGE, Utah, May 3, 2019 (Gephardt Daily) — The City of St. George has been picked as the location for the 2021 Ironman 70.3 World Championship.
"We are so thrilled to be chosen as host for the 2021 IRONMAN 70.3 World Championships!" says a statement posted Friday on the City of St. George Facebook page.
"This is a fantastic opportunity to welcome the world to St. George, sharing the natural beauty we are all surrounded by on a daily basis. More than 100 countries are represented in the men's and women's championships, and the region is expected to reap an economic impact in the neighborhood of $25 million!"
Ironman reportedly was choosing between Chattanooga, Tenn., and St. George, both of which were finalists to host the competition and other Ironman events.
Ironman rotates between events in the United States and other countries.
The Ironman 70.3, also known as the Half Ironman, is one of a series of long-distance triathlon races, according to a Wikipedia account.
The "70.3" refers to the total distance in miles covered in the race, which includes portions in which competitors must swim 1.2 miles, bike 56 miles, and run 13.1 miles.
"The Ironman 70.3 series culminates each year with a World Championship competition, for which competitors qualify during the 70.3 series in the 12 months prior to the championship race," the Wikimedia article says.
The partnership will also include five other events to the Southern Utah city, including Ironman St. George in 2020 and 2023, according to information released by the city.