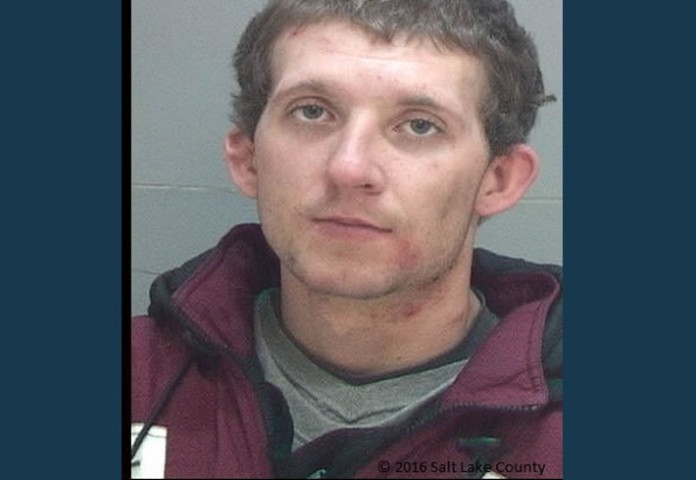 SALT LAKE CITY, Utah, Jan. 29, 2016 (Gephardt Daily) — Police have a suspect in custody after a man wrecked a stolen car and ran from officers near the Grand America Hotel in downtown Salt Lake. He also initially gave police a false name.
Police initially identified the suspect as 30-year-old Christopher Brown, but the suspect's name is actually Cory Webb, 21.
Officers were initially concerned Webb may have run into the hotel, and may have been armed, because he has an extensive criminal history including weapons and drug violations.
A subsequent search of the stolen vehicle did not turn up any weapons, though officers are still checking out what they believe to be drug paraphernalia.
Webb was located hiding under a car in the lower parking structure of the hotel at 555 S. Main Street.
Salt Lake City Police Department Det. Cody Lougy said that a little after 3 p.m. officers spotted a stolen vehicle in the shelter area at 210 S. Rio Grande Street. One officer ran the license plate.
"He determined that vehicle was stolen. It was a silver Honda Civic. He followed that vehicle and attempted to pull that vehicle over and it fled from him, and wrecked right here, on about 600 South and about 80 East.
"The suspect fled this area and went north to the Grand America. Our officers set up a containment. We had about 10 officers here very quickly. A few minutes later we located the suspect near the lower parking structure, hiding beneath a vehicle.
"This was a scary situation for all of us. We had a lot of people at the Grand America. We have several conventions here and our biggest concern was this individual may have been armed and inside the hotel."
Witness Daniel Shaffer, whose car was clipped when the suspect wrecked the stolen Honda, said: "I was driving on my way to a meeting and all of a sudden it was like something out of COPS. This car came up from the right and clipped my car and as soon as he clipped my car he took off. There was an officer right behind him and the officer was right on the guy. Everything happened pretty fast."
Lougy said there was also a female passenger in the stolen Honda, though Webb dropped her off in the area of the shelter.
Webb was booked on several charges including possession of the stolen vehicle, hit and run, false information and felony warrants of arrest. No one was injured in the course of events.