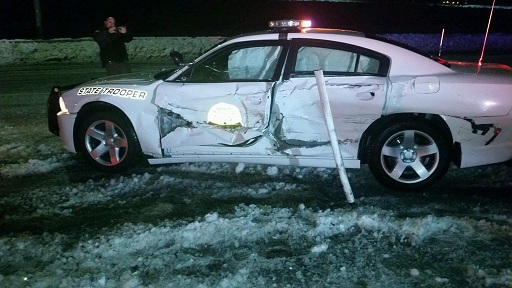 ROY, Utah, Dec. 23, 2015 (Gephardt Daily) — For the third time in three weeks, a trooper's vehicle was hit while out assisting a motorist Wednesday morning, prompting the Utah Highway Patrol to issue a warning for drivers when approaching the scene of any accident.
Trooper Adam Kirby of the Utah Highway Patrol said at about 1 a.m. Wednesday morning a trooper was out of his vehicle assisting a motorist in an accident on I-15 in Roy when another car slid and slammed into his patrol vehicle.
"We are having major issues with black ice in Roy," Kirby said. "It is that time of year, and this is already the third accident involving one of our troopers in three weeks."
No one was injured in the accident and further details of the incident were not made immediately available.
In an effort to prevent further accidents, UHP is asking for others to please slow down, use caution while driving and move over when they approach the scene of any accident.