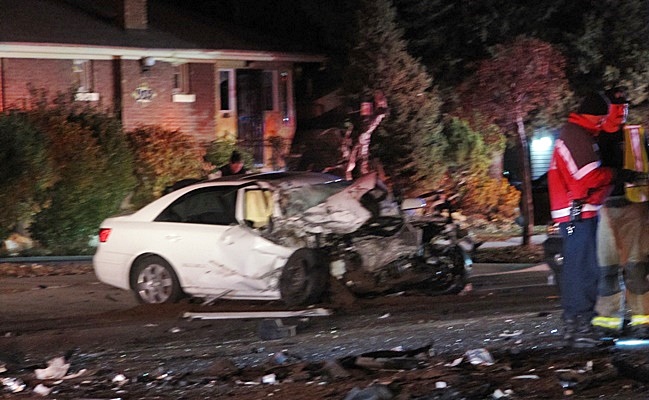 OGDEN, Utah, Nov. 2, 2019 (Gephardt Daily) — A man who died in a head-on crash Friday night on 12th Street in Ogden was driving a car police say he had stolen just a short while before the fatal collision.
Lt. Tyler Ziegler, with the Ogden Police Department, said officers were dispatched at 9:13 p.m. to Newgate Mall, at 36th Street and Wall Avenue, on a report of a robbery.
"A male in his 30s approached a car and attempted to open the door," Ziegler said. "The driver of the vehicle drove away. The suspect then approached a woman and demanded her car keys."
Ziegler told Gephardt Daily the suspect took the woman's car and fled the mall, heading north on Wall and stopping at the Maverik at 1212 Wall Ave., where he stole some cigarettes.
He then headed east on 12th Street.
Just as the suspect reached the 900 block on 12th, he veered into oncoming traffic and crashed head on into a westbound van.
The impact knocked the van onto its side, and both vehicles' front ends were destroyed.
Ziegler said the driver of the van was transported to a local hospital for evaluation of injuries and was later released.
Police know the identity of the deceased suspect, but are not releasing his name while the investigation into the chain of events is still underway, Ziegler said.
The available evidence suggests the suspect acted alone and there is no ongoing threat to public safety.
Gephardt Daily will update this developing story as more information becomes available.