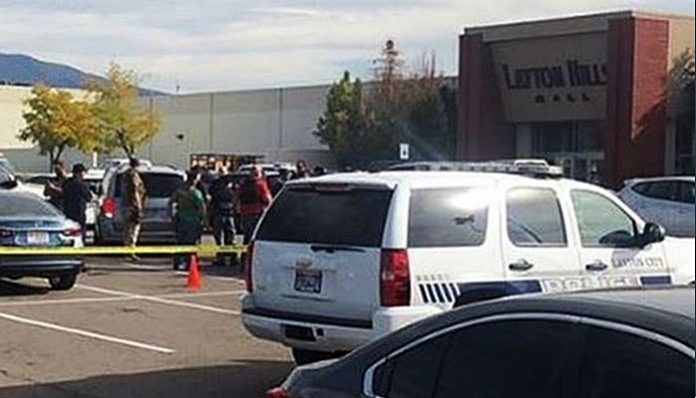 LAYTON, Utah, Oct. 8, 2019 (Gephardt Daily) — A "violent fugitive" wanted on multiple felony warrants was shot by U.S. marshals outside the Layton Hills Mall on Tuesday afternoon.
Matthew Harris, speaking for the U.S. Marshals Service, said officers had been tracking the 28-year-old fugitive for several hours prior to the shooting.
"Several cities had active warrants out on him, including at least one for aggravated robbery," Harris said at a news conference outside of the mall.
They tracked the man to Layton Hills and waited for him to come outside, in an effort to avoid any confrontation with the public, Harris said, adding that the marshals never went into the mall.
When the wanted man came outside to the parking lot north of JC Penney at about 3:35 p.m., he was "with a female associate," Harris said. It wasn't known if the woman was taken into custody.
As marshals approached the fugitive, he ran and got into his vehicle.
Harris said the man started ramming the police cars and other vehicles adjacent to his own.
The marshals also had information that the fugitive was armed.
Shots were fired, Harris said. He did not provide any further information on the shooting itself, he said, because the investigation is active. The name of the fugitive has not been released for the same reason.
"When (the U.S. Marshals Service) spends the time and resources to go after someone, you can be sure they're the most violent among us," Harris told reporters.
The wounded fugitive was taken into custody and was transported to the hospital. No information was available on his condition at the time he was transported or later on Tuesday.
No officers were shot in the incident.
Harris stressed that the U.S. Marshals Violent Fugitive Apprehension task force includes local, state and federal agents, and they always talk with the local agencies when they are working in their jurisdiction.
Layton Police said in a news release that "Layton PD was not involved in the shooting, but we are assisting the Davis County Critical Incident Protocol Team with the investigation and processing the scene. The mall is open and safe."
Gephardt Daily will continue to provide updates on this incident as more details become known.