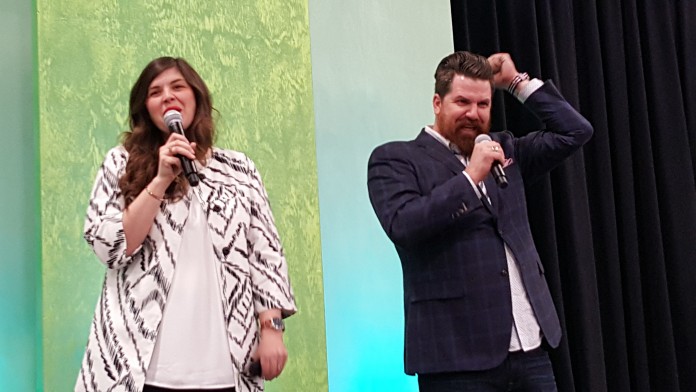 SANDY, Utah, March 13, 2016 (Gephardt Daily) — For Candis Meredith, her old home love began long before she turned 20 and bought her grandmother's 1890 Payson home.
Her DIY Network show, "Old Home Love," wouldn't come along for more than a decade later. Meredith was successful enough at restoring and replenishing vintage homes that she was able to hire husband Andy. They hose the show together.
"HGTV found us on our Instagram," Candis Meredith said. "We had 500 followers, and we couldn't believe 500 people wound want to follow us. Now we have 30,000 followers."
The Merediths spoke this weekend at the Salt Lake Tribute Home & Garden Festival, at South Towne Expo Center, 9575 S. State. Their last presentation of the festival is at 3 p.m. Sunday.
Candis Meredith lets one philosophy be her guiding principle in working with old homes.
"People should never know what year you renovated your house," she said. "You should ask yourself, 'Would this have looked good 100 years ago? Will it look good in 100 years?' That's where I want to spend my money."
And classic looks often are cheaper to fund than are new, trendy styles, she said.
The Merediths favors white subway lines or stone, lots of substantial molding, and colors from the period of the house.
"We get a lot of historic paintings for our colors," Andy Meredith said. "Photos from the time don't capture the colors, since they are black and white, but paintings do."
They sometimes work with contractors.
"Contractors don't care that your house is old," said Andy Meredith, adding that they don't go out of their way to protect old features such as century old tiling or woodwork.
He once even protected historic tiling — which was newly cleaned and replaced in front of the fireplace, cleaned but not grouted — from his wife.
The pair was recording a scene for the show when Candis' foot stepped onto the tile. Andy grabbed a yardstick below camera level, and used it to tap his wife's leg, alerting her to the issue. The tile was saved, he said proudly, and the recording never stopped.
The two met when each was single with three sons.
"The spring after we were married we bought six houses, most of them scheduled for demolition," Andy Meredith said.
Together, they had a seventh child, their only daughter. Candis Meredith went into labor while they were shooting the final show of the season.
"We don't see our show until America does," she said. "One labor pain was caught on camera."
The hardest part of renovating old homes for a living is turning over the keys to buyers, they said.
"Every time we sell a house she bawls and I have to lead her away," Andy Meredith said.
"They better love those houses," his wife answered in what sounded almost like a threat.
Other tips they passed along to listeners included getting very old electrical systems replaced.
"There's an old saying, nothing burns down an old house like fire," Andy joked.
And Candis Meredith recommended mix new with old.
"You don't want to make the house into a museum," she said. "It's your house. I have abstract modern art on my grandmother's buffet." Her husband also suggesting mixing mid-century modern looks with antiques.
They also like substantial molding, preferring to put a 6-inch floor board beneath the small decorative strips of molding some people use alone.
Andy Meredith saved his biggest tip for last:
"Don't be afraid to get started."
The Merediths speak one more time during the home show, at 3 p.m. Sunday.