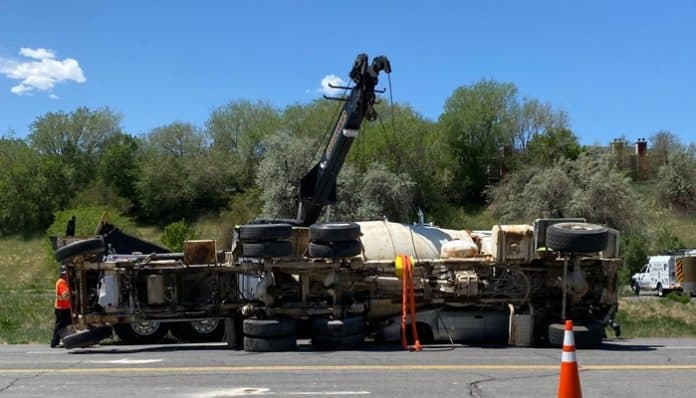 WEST VALLEY CITY, Utah, May 13, 2021 (Gephardt Daily) — The newly formed Utah Traffic Incident Management Coalition staged a live crash demonstration Thursday morning.
The Utah Highway Patrol, Utah Department of Transportation, and first responders from public and private agencies joined together to form the coalition, a first for Utah, said a news release.
The coalition provided a live crash response demonstration highlighting the new and improved multi-agency response to crashes and incidents, demonstrating drone use in investigations, and focusing on safe and quick clearance techniques, the news release said.
The demonstration took place at the Utah Driver License Division Driving Course
at 2780 W. 4700 South in West Valley City.
UHP Captain Steve Winward told Gephardt Daily: "This training is designed to help the TIM, or traffic incident management, and what we do is we are looking for several things; to facilitate opening up a freeway a lot quicker, so we can get traffic flowing again, and also the safety of first responders; law enforcement, fire, tow truck and any other responders that go to a a crash; to make sure everything's safe and that we get it open faster so we don't have secondary crashes."
In the past, responders would have to shut down the freeway, diagram, and take pictures, and that would take a lot of time, Winward said. Today's technology such as drones mean the response is much quicker. A to-scale, 3D diagram from a drone takes six minutes, he said, where before a diagram would take two to three hours.
The simulated incident was completed in one hour rather than three to four hours, Winward said.
"Every minute that traffic flow is affected there is the potential for more crashes, more deaths, more injuries," he said.