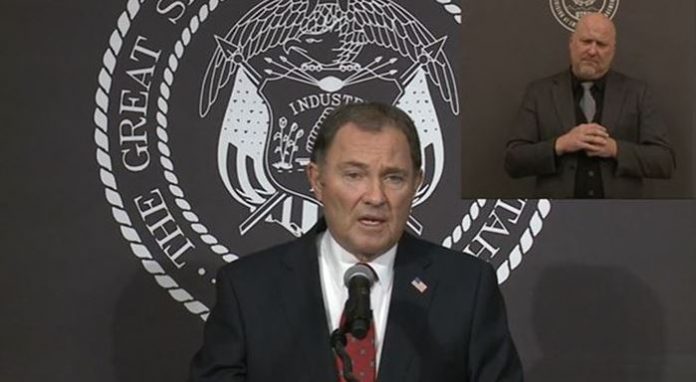 SALT LAKE CITY, Utah, April 9, 2020 (Gephardt Daily) — Utah gained 130 known COVID-19 cases in the past 24 hours, bringing the new total to 1,976, health officials confirmed Thursday.
Known COVID-19 deaths held steady at 13.
The number of tests reported increased 2,257, to a current total of 38,373.
Hospitalizations increased by 10, to 168, in the past 24 hours.
Here are number updates by area and age group:
Total Number of Lab-Confirmed COVID-19 Cases in Utah
| Jurisdiction | Cases | Hospitalizations |
| --- | --- | --- |
| Bear River | 41 | 6 |
| Central Utah | 6 | 1 |
| Davis County | 170 | 15 |
| Salt Lake County | 935 | 83 |
| San Juan | 6 | 2 |
| Southeast Utah | 4 | 0 |
| Southwest Utah | 48 | 7 |
| Summit County | 289 | 24 |
| Tooele County | 24 | 2 |
| TriCounty | 8 | 0 |
| Utah County | 272 | 17 |
| Wasatch County | 88 | 5 |
| Weber-Morgan | 85 | 6 |
| State Total | 1976 | 168 |
Total Utah Residents with COVID-19 Demographics Table
| Age Group | Case Count | Percent of Cases | Rate per 100k Population |
| --- | --- | --- | --- |
| Less than 1 year | 10 | 1% | 19.9 |
| 1-14 years | 46 | 2% | 6.3 |
| 15-24 years | 299 | 15% | 58.6 |
| 25-44 years | 788 | 40% | 87.6 |
| 45-64 years | 611 | 31% | 98.2 |
| 65-84 years | 212 | 11% | 67.8 |
| 85+ years | 8 | 0% | 21.2 |
To see Thursday's full news conference, click on the Facebook link below:
https://www.facebook.com/GovGaryHerbert/videos/2919476588138881/