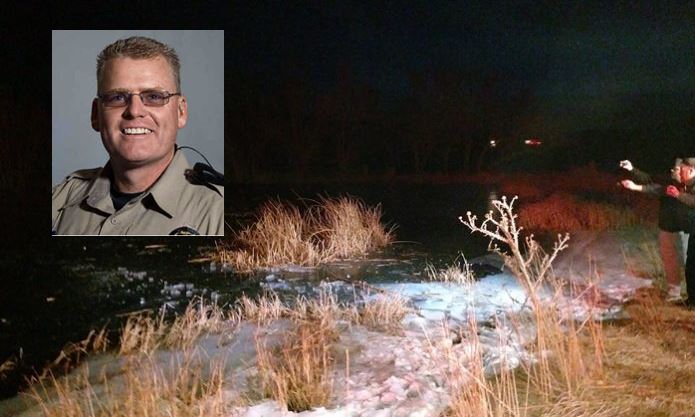 To read an update on the boy's condition, click here.
NEW HARMONY, Utah, Dec. 26, 2017 (Gephardt Daily) — A Washington County Sheriff sergeant spoke to the media on Tuesday, a day after he bashed through pond ice with his hands and fists to find an 8-year-old boy who was submerged for 30 minutes or more.
"I just made the decision I would go get him," said Sgt. Aaron Thompson, Washington County Sheriff's Office. "I knew what I was getting into."
Thompson — one of the first responders on the scene, near 3100 East block of 2500 South — said he had been on the county's dive rescue team for several years.
"I knew how cold the water was," and about how long he had to find the child, he said.
The name and current condition of the boy cannot be released due to privacy laws, according to the WCSO. He was taken to Dixie Regional Medical Center, then transported by helicopter to Primary Children's Hospital, where he was still undergoing treatment at 8 p.m. Monday.
Monday afternoon at the scene, at about 4:30 p.m., Thompson arrived and said he talked to a woman who said she had seen the boy alive about four minutes earlier. A friend of the boy had run to get help after the 8-year-old ran after a dog that had run onto the ice. The ice gave way beneath the boy.
Thompson told reporters that young children have been saved as much as an hour after falling into frigid water, depending on the water's clarity and how fast the victim's metabolism was able to slow down, among other factors.
So Thompson rushed out onto the pond's frozen surface, to where the woman said she had seen the boy, and the sergeant began forcefully breaking through the ice, hitting the ice again and again to make a path and move himself forward.
When Thompson got close, he dove under the ice multiple times, and finally spotted the child beyond the ice he had broken through.
"Once I saw his face, I pulled his head out of the water," the officer said. "I was desperate."
By the time Thompson headed back the 25 feet to shore, there were more rescue crews to assist him and the child. When he had headed out, it was only him and a Gold Cross paramedic standing on shore. That paramedic had offered to go in the water as well.
"I told him I needed him there (on shore), so if I got tangled he could come rescue me," Thompson said.
Back on shore, paramedics immediately began treating the boy, so Thompson went to his patrol car to warm up and assess his condition, he said.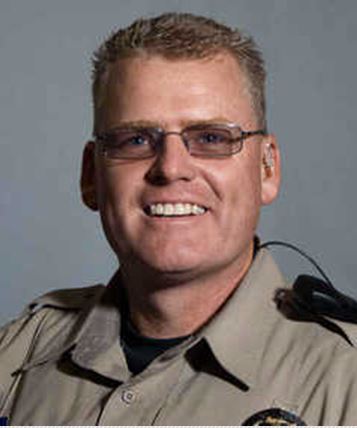 "I was in bad shape," he said.
Firemen treated him for hypothermia, and he was taken to Dixie Regional Medical Center for more treatment and for stitches for cuts caused by smashing his fists into the ice.
Thompson said he also suffered nerve damage from pounding the ice so many times, but as of Tuesday morning, he was beginning to get some feeling back in his hands. He was released from the hospital Monday night, he said.
Thompson may have been the one to jump in, he told reporters, but he did not consider himself the hero.
"Everybody huddled around to make sure that child had the best chance," he said. "If there was a hero that night it was us, not me."
Thompson said he would like the boy's family to know his thoughts and prayers are with them.