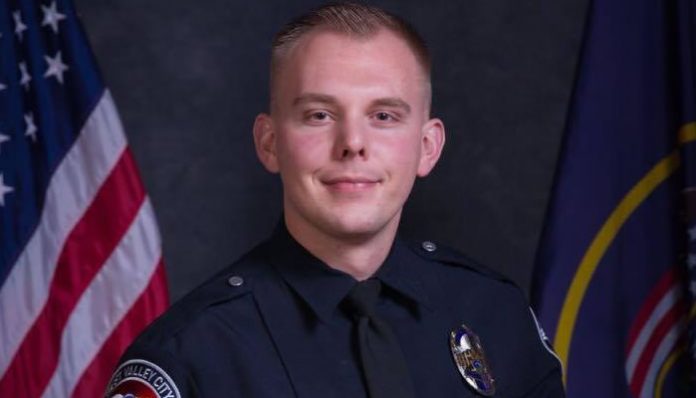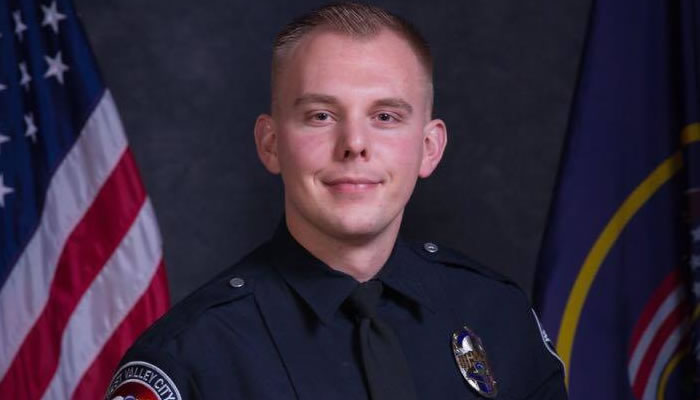 WEST VALLEY CITY, Utah, Nov. 9, 2016 (Gephardt Daily) — Funeral services for West Valley City Officer Cody Brotherson, who was killed in the line of duty early Sunday morning, have been announced.
Brotherson's funeral will be Monday, Nov. 14, at the Maverik Center, 3200 S. Decker Lake Drive, at 10 a.m. The funeral is open to the public, and the Maverik Center seats 12,600.
A viewing Sunday from 4 p.m. to 7 p.m. at Valley View Mortuary, 4335 W. 4100 South, is also open to the public.
Officers also announced a candlelight vigil Wednesday at 7 p.m. at Fairbourne Station Plaza, 2810 W. 3590 South, west of City Hall. Brotherson's patrol car is parked on the plaza, where it will remain at least until his funeral Monday.
Brotherson, 25, died when investigators say he was struck by a stolen car containing three juveniles — one age 14 and two age 15 — who were fleeing police.
Brotherson joined WVCPD in December 2013 and is the first officer in the department's history to be killed in the line of duty.
Gov. Gary R. Herbert issued the following statement Sunday afternoon:
"It is with heavy hearts that Jeanette and I join all Utahns in mourning the passing of Officer Cody Brotherson, who gave the ultimate sacrifice this morning. We are heartbroken to lose such a young and dedicated officer who by all accounts had a bright future ahead of him.
"Once again we face a tragic reminder of the selflessness and unwavering courage that is required of our peace officers and their families each day. We cannot thank enough those who put their lives on the line to serve, defend and protect our communities. Officer Brotherson's sacrifice will not be forgotten. We offer our prayers and sincere condolences to his family, fiancée, friends, and the entire law enforcement community at this difficult time."
Herbert will order the lowering of the Flag of the United States of America and the Flag of the State of Utah on the day of Brotherson's funeral.
Gephardt Daily will provide comprehensive coverage of both the vigil Wednesday evening and the funeral Monday.