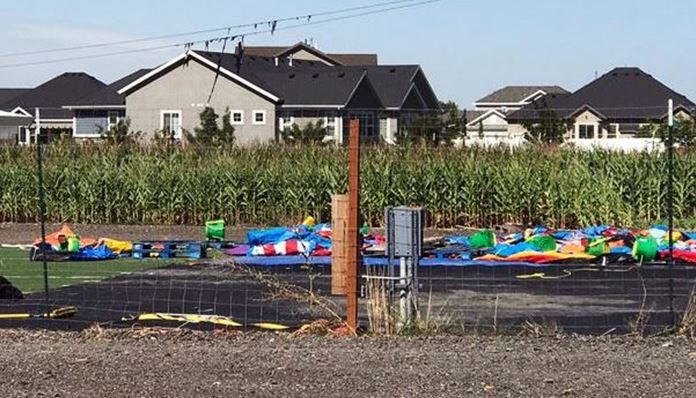 DRAPER, Utah, Sept. 19, 2019 (Gephardt Daily) — Power was knocked out to thousands of Rocky Mountain Power clients Thursday after a large bouncy house being set up for a local Halloween attraction was picked up by a gust of wind and blown into nearby power lines.
"It was inflated and they were setting it up," Battalion Chief Cody Jolley, Draper Fire Department, told Gephardt Daily. "It flew about 100 feet, across a corn maze, and hit the power lines, which arced and caused the fire."
Firefighters were called to the scene at 12:50 p.m., and arrived at 651 W. Galena Park Blvd., Draper, Jolley said. The site is the home of a popular annual Halloween attraction run by Kuwahara Wholesale, a local produce company.
In an emotional statement posted on social media, owner-manager Alex Kuwahara and partner, Sarah, explained the bouncy house was being blown up and staked to the ground when a gust of wind sent it soaring into the power lines.
"It blew up. It was the most terrible thing," Sarah said. "It's the biggest bounce house we have and we're so grateful no one was on the bounce house. I'm just so happy no one was hurt."
The couple apologized to neighbors who lost electrical service and said they were unsure if their pumpkin patch event would be cancelled.
Rocky Mountain Power said three lines were heavily damaged in the freak accident, which cut power to nearly 4,000 homes.
"The power lines failed and dropped to the road," Jolley said. "The fire was extinguished before it was able to affect any other structures. It did catch some vegetation on fire, on the ground."
As of about 1:30 p.m., power was restored to 3,539 customers in Bluffdale and Riverton, a tweet said.
A RMP outage map showed 368 clients still without power as of 3:30 p.m.