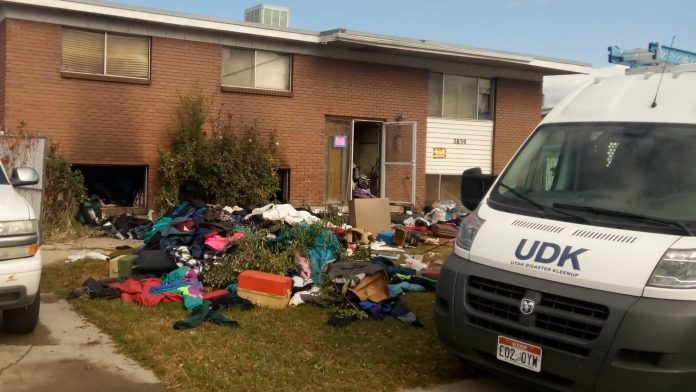 WEST VALLEY CITY, Utah, Oct. 26, 2017 (Gephardt Daily) — An elderly couple in West Valley City managed to self-evacuate from their home when a fire broke out Thursday morning, but firefighters' efforts to extinguish the blaze were hampered by the amount of debris in the home, officials said.
West Valley City Fire Department Battalion Chief Jeff Fox told Gephardt Daily crews responded on a call of a structure fire in the area of 2800 W. 2890 South at approximately 9:30 a.m.
"When we arrived, we had smoke coming out of the eaves," Fox said. "After a 360-degree walk around, we realized that the fire was probably in the basement, but it was hard to tell because there was a lot of debris in the way. Crews tried to make entry through the front door, but they could not get over all the debris that was in the stairwell, so our only option was to break the basement windows out and try to put the fire out that way."
The elderly couple that lives in the home were not injured, he said.
Because there were so many items in the way to get to the blaze, crews went into defensive mode and decided not to send anybody inside until they were able to locate the fire.
"We were finally able to break out a window in the back, which was closer to the fire, and after moving as much debris as we could, we were finally able to put the fire out," Fox said.
Though the fire was fairly small, Fox said, it did burn up through the floor into the hallway upstairs, where there was a great deal of smoke damage.
"It took us a little bit of time to get to it, so it progressed a little bit further than we wanted it to," Fox said. "Finally we were able to put it out, and we never really made it very far into the structure because it was too risky and too unsafe."
Crews had to remove as much debris as they could to make sure the fire was completely out.
Fox said the incident is a reminder that having excess debris in your residence could hamper firefighting efforts in the case of an incident.
"There was absolutely no clear path to walk through, our crews originally had to climb over a lot of stuff and they were still unable to make it down the stairwell," Fox said. "They have already removed tons and tons of stuff and still had no access. If there's a problem in there, it's really difficult for us to get in there, especially on a fire, because I am not going to send crews inside if there's that much stuff in the way. It's way too dangerous. If you want to keep stuff, you can keep stuff in your house, but just make sure that you have a pass to get to every room. Make it so it's not such a danger to people."
The fire originated in the furnace room, crews found, so investigators are now working to pinpoint an exact cause.
The home is uninhabitable for the moment, but there is not an exact estimate on damages as yet.