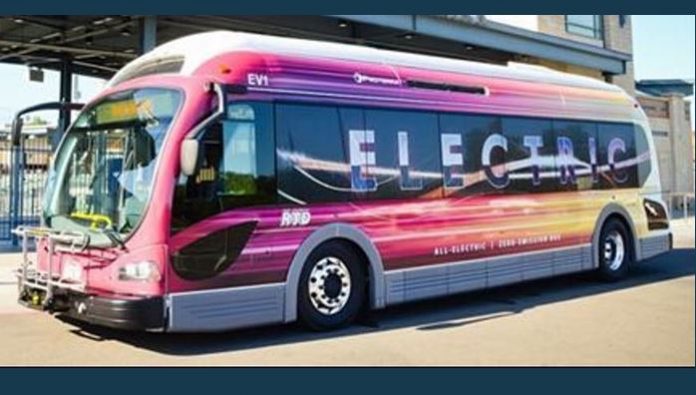 Dec. 15 (UPI) — California will become the first state to mandate a transition to all-electric public buses when it makes the switch by 2040, under a California Air Resources Board decision.
The board approved Friday the "first-of-its-kind regulation" in the country to set a statewide goal for public bus fleets to gradually transition to 100 percent zero-emissions by 2040, it said in a statement.
The Innovative Clean Transit regulation is part of a statewide effort to meet California's air quality and climate change goals by cutting transit-sector emissions, which account for 40 percent of climate-changing gas emissions and up to 90 percent of smog-forming pollutants.
From 2020 to 2050, the regulation is expected to reduce greenhouse gas emissions by 19 million metric tons, which is the equivalent of taking 4 million cars off the road. It is also expected to reduce nitrogen oxides by about 7,000 tons and particulate matter by about 40 tons over the same period.
"A zero-emission public bus fleet means cleaner air for all of us," Board Chair Mary D. Nichols said in the statement. "It dramatically reduces tailpipe pollution from buses in low-income communities and provides multiple benefits especially for transit-dependent riders."
"Putting more zero-emission buses on our roads will also reduce energy consumption and greenhouse gases, and provides cost savings for transit agencies in the long run," Nichols added.
Eight of the 10 largest transit agencies in the state already operate zero-emission buses, including battery electric and hydrogen fuel cell alternatives.
The rollout is expected to accelerate rapidly from 153 buses currently to 1,000 by 2020. Public transit agencies operating about 12,000 buses statewide.
By 2029, transportation agencies will no longer be able to buy a non-electric bus.
The board said despite upfront costs for the transition, there would be saving in the long term of $1.5 billion in maintenance, fuel and other costs.