WASHINGTON, August 14, 2015  (Amy R. Connolly) — The American flag will be raised over the U.S. Embassy in Cuba for the first time in 54 years Friday despite lingering mistrust and a call from former President Fidel Castro for the United States to pay millions in reparations.
Secretary of State John Kerry will lead a delegation to the embassy in Havana, heralding a step forward for the Cold War-era foes. Among those attending are members of Congress, selected Cuban-American entrepreneurs and a large contingent of media, along with three retired Marines who last lowered the flag in January 1961.
Later in the day, Kerry will meet with Cuban dissidents who will not be at the opening ceremony. He rejected the criticism the Cuban government opponents were encouraged to stay away.
"We just disagree with that. We're going to meet," he said. The embassy ceremony, "is a government-to-government moment. We're opening an embassy. It's not open to everybody in the country. And later we'll have an opportunity where there is a broader perspective to be able to meet with … a broad cross-section of Cuban civil society, including dissidents," he said.
Already for weeks, Cubans have been lining up at the embassy, which officially opened in July, for visas to visit the U.S. or to move permanently to live with relatives.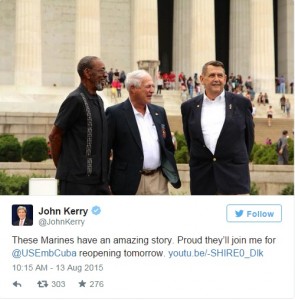 Against the background of the renewed relations is lingering mistrust and animosity, mostly from the Cuban exile community in Florida who oppose opening the relations with the Castro government and Republican lawmakers.
All of this comes as Castro, 89, derided the U.S. for owing "millions of dollars" in compensation for the decades-long trade embargo. Castro, who ceded power to his younger brother Raul in 2006, said Cuba will never stop "fighting for the peace and well-being of all human beings, regardless of the skin color and country of origin of every inhabitant on the planet."