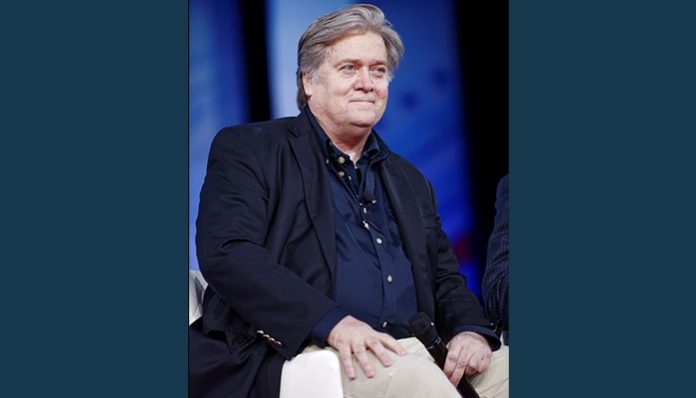 Sept. 4 (UPI) — Former White House chief strategist Steve Bannon has been dropped from the lineup of the New Yorker Festival after several celebrities denounced his participation.
Among those who strongly objected to Bannon's inclusion on the bill were filmmakers Ava DuVernay and Judd Apatow, talk-show host Jimmy Fallon, and actor-comedians Jim Carrey, Patton Oswalt and John Mulaney.
A lengthy statement was posted on the magazine's Twitter feed Monday afternoon explaining why New Yorker editor David Remnick wanted to interview the former Breitbart News executive chairman in a public forum.
"The main argument for not engaging someone like Bannon is that we are giving him a platform and that he will use it, unfiltered, to propel further the 'ideas' of white nationalism, racism, anti-Semitism, and illiberalism," Remnick wrote in the statement. "But to interview Bannon is not to endorse him. By conducting an interview with one of Trumpism's leading creators and organizers, we are hardly pulling him out of obscurity. Ahead of the mid-term elections and with 2020 in sight, we'd be taking the opportunity to question someone who helped assemble Trumpism."
Remnick went on to say he re-considered Bannon's placement in the lineup after a swift backlash on social media and among staff members at the magazine.
"I've changed my mind. There is a better way to do this," he said, saying if he gets the opportunity, he will interview Bannon in a more traditional, journalistic setting and "not on a stage."
"I'm out," Fallon tweeted before the cancellation news went viral.
"Bannon? And me? On the same program? Could never happen," Carrey said.
"He created an online home for white nationalists to groom and grow their violent base. He cemented his destructive white supremacist views into the DNA of the White House. Now, New Yorker is selling tickets to see him headline. And here we are, folks," DuVernay posted.
"I'm out. Sorry, @NewYorker. See if Milo Yiannopoulos is free?" Oswalt wrote.
"I'm out. I genuinely support public intellectual debate, and have paid to see people speak with whom I strongly disagree. But this isn't James Baldwin vs William F Buckley. This is PT Barnum level (expletive). And it was announced on a weekend just before tix went on sale," said Mulaney.
"If Steve Bannon is at the New Yorker festival I am out. I will not take part in an event that normalizes hate. I hope the @NewYorker will do the right thing and cancel the Steve Bannon event. Maybe they should read their own reporting about his ideology," said Apatow.
I'm out. I genuinely support public intellectual debate, and have paid to see people speak with whom I strongly disagree. But this isn't James Baldwin vs William F Buckley. This is PT Barnum level horseshit. And it was announced on a weekend just before tix went on sale.

The New York Times

✔@nytimes

Stephen Bannon will headline The New Yorker Festival, where he will be interviewed by David Remnick, the magazine's editor https://nyti.ms/2Q2FMom