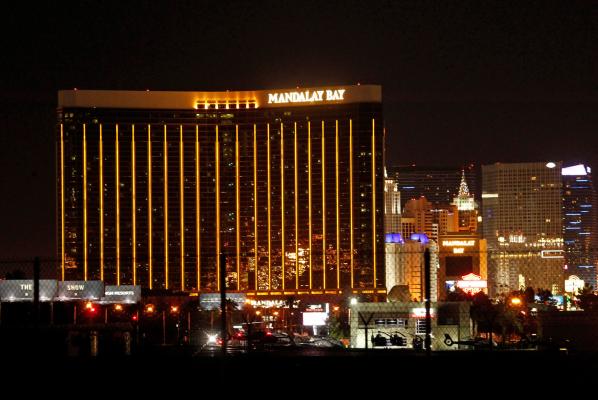 Oct. 2 (UPI) — The deadliest shooting in United States history Monday shocked a number of world leaders and former statesmen, including former President Barack Obama and former Secretary of State Hillary Clinton.
Obama, who led the nation through multiple mass shooting incidents, decried "another senseless tragedy."
"Michelle & I are praying for the victims in Las Vegas," he tweeted. "Our thoughts are with their families & everyone enduring another senseless tragedy."
More than 50 people were shot dead late Sunday at a country music festival at the south end of the Las Vegas Strip. Authorities said the gunman was perched on an upper floor of the Mandalay Bay Hotel and Casino.
Other leaders called for greater gun control, including former Secretary of State Hillary Clinton.
"The crowd fled at the sound of gunshots. Imagine the deaths if the shooter had a silencer, which the NRA wants to make easier to get," she tweeted. "Our grief isn't enough. We can and must put politics aside, stand up to the NRA, and work together to try to stop this from happening again."
"Tragedies like Las Vegas have happened too many times. We need to have the conversation about how to stop gun violence. We need it NOW," Sen. Elizabeth Warren tweeted.
Former Arizona Representative Gabrielle Giffords, herself a victim of gun violence in 2011, said she was "heartbroken by the scene our nation is waking up to this morning."
"No person should endure the horror Las Vegas experienced last night."
House Majority Whip Steve Scalise, who was also seriously injured in a shooting during a congressional baseball practice in June, echoed similar sentiments.
"[My wife] and I are praying for the victims of this unspeakable violence in Las Vegas," he tweeted.
Canadian Prime Minister Justin Trudeau reacted with shock and solidarity toward the United States.
"Words fail this morning," he said. "The friendship and support of Canadians is with the victims in Las Vegas & the people of the U.S."
"The U.K.'s thoughts are with the victims and the emergency services responding to the appalling attack in Las Vegas," British Prime Minister Theresa May noted.