NEW YORK, Feb. 20 (UPI) — Two New York City police officers were shot early Saturday morning during a car chase in Brooklyn with an armed suspect.
Authorities said one officer suffered "blunt-force trauma" after a bullet hit the officer's bullet-proof vest. The other officer was struck below the vest. The bullet entered his right hip.
Police said both injured officers — who were in street clothes — are in stable condition and are expected to recover. They are being treated at Kings County Hospital.
"Amazing to see the devotion of these officers and the relief their families felt," Mayor Bill de Blasio said during a press conference after visiting the injured officers in the hospital.
"They were alert. They were talkative in fact," he said.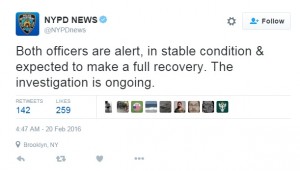 The suspect, Jamal Funes, 34, reportedly slammed his vehicle head-on into a patrol car shortly after 3:00 a.m. before opening fire on the two officers, police said.
Several other officers answering a call for assistance shot at Funes, hitting him more than once, officials said. He was taken to Brookdale University Hospital in critical condition.
The NYPD said investigators recovered a .357-caliber revolver and five spent shell casings from the suspect's car after the shooting.