WASHINGTON, Dec. 23 (UPI) — In a rare moment of unity among Republican presidential candidates, Donald Trump, Sen. Marco Rubio, R-Fla., and former Florida Gov. Jeb Bush came to the defense of Sen. Ted Cruz, R-Texas, whose children were depicted in a Washington Post cartoon.
The cartoon depicted Cruz's young daughters Catherine and Caroline as monkeys, with their father dressed as an organ grinder. Post Cartoonist Anna Telnaes tweeted the cartoon Tuesday, saying "Ted Cruz uses his daughters as political props." The tweet has since been deleted, but many news outlets were able to grab screen shots.
The Washington Post pulled the cartoon after Cruz attacked the paper. Cruz told the paper to stick with attacking him. "Caroline & Catherine are out of your league," he tweeted.
The cartoon was replaced on the Post's website Tuesday evening with a statement from editor Fred Hiatt: "It's generally been the policy of our editorial section to leave children out of it. I failed to look at this cartoon before it was published. I understand why Ann thought an exception to the policy was warranted in this case, but I do not agree."
Telnaes
defended the cartoon
on Twitter: "Ted Cruz has put his children in a political ad- don't start screaming when editorial cartoonists draw them as well." She accompanied the tweet with
a link to Cruz's campaign video
released Monday. It featured the senator reading Christmas stories to his wife and children, such as "How Obamacare Stole Christmas," and "Rudolph the Underemployed Reindeer."
Cruz's rival Rubio tweeted support for Cruz, calling the cartoon "disgusting." Trump called it "nasty." In an appearance on Fox News Wednesday, Bush called the cartoon a "mistake" and said that families should be "off limits."
Gawker reported
the cartoon was featured in a fundraising email sent out by Cruz's campaign Tuesday, shortly after the paper pulled it from their website. The email calls the cartoon an "emergency" and implores supporters to donate to the campaign to help Cruz "fight back."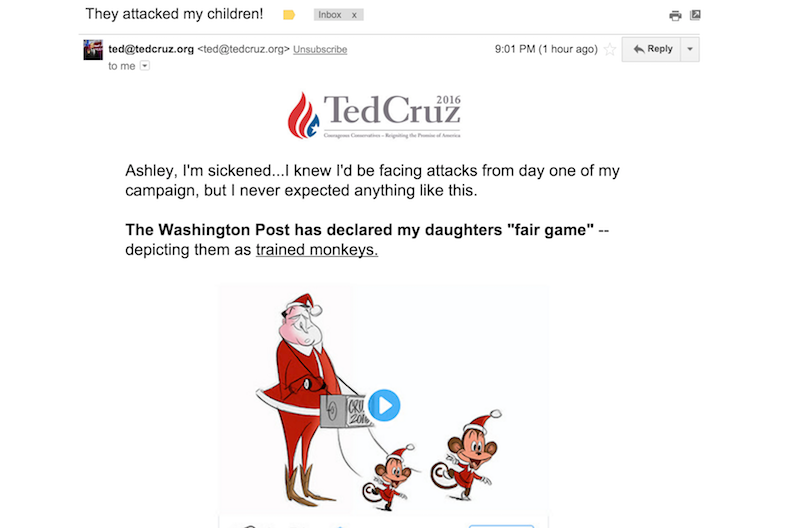 Cruz also tweeted his own cartoon Wednesday afternoon, depicting Democratic presidential front runner Hillary Clinton walking two dogs, labeled "The New York Times" and "The Washington Post."