Alexis Randock, Rickie Fowler Kiss to Celebrate Players Win
PONTE VEDRA BEACH, Fla., May 11 (UPI) —Alexis Randock and boyfriend Rickie Fowler shared a passionate moment at The Players Championship over the weekend.
The bikini model gave the 26-year-old professional golfer a big hug and kiss following his win at The Tournament Players Club at Sawgrass. Fowler beat out Sergio Garcia and Kevin Kisner to finish 12 under par.
Randock and Fowler's embrace was the talk of the course, with some fans declaring the couple the new Lindsey Vonn and Tiger Woods. The alpine ski racer and the professional golfer ended their three-year relationship last week.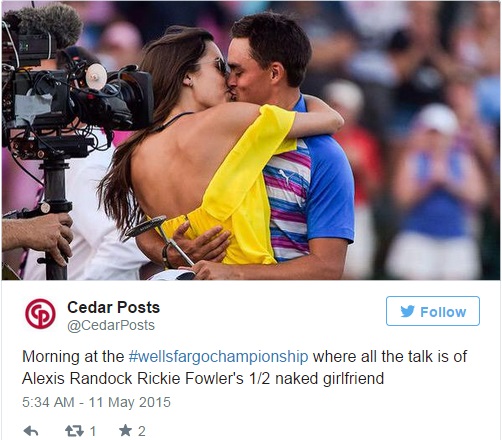 "I have been nauseous, really the entire tournament, but more so the last two days," Randock told Sean Martin of pgatour.com. "It's kind of a stressful game, but it's well worth it. He deserves this more than I could ever say. He's an amazing guy."
"We've only been dating nine months," she continued of her beau. "We met through a mutual friend. It's been great. I mean, we get along so well. We're like best friends. I couldn't ask for a better relationship or a better boyfriend."