Sofia Vergara and Joe Manganiello Celebrate Engagement
LOS ANGELES – May 11, 2015 (UPI) — Family and friends of Sofia Vergara and Joe Manganiello celebrated the couple's engagement at Soho House in West Hollywood, four months after the Christmas proposal.
Nearly 50 people helped with the party, and even though the celebration was private, Sofia's oldest son, Manolo Gonzalez Vergara, made sure to keep actors' followers updated.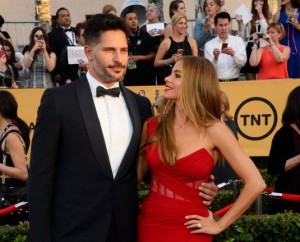 "Congratulations to these ugly people," said Schwarzenegger in a toast, as reported by Gonzalez.
Manganiello co-starred with Schwarzenegger in the 2014 film Sabotage, which the actor has previously said was one of his ultimate dreams.
The Modern Family star wore a strapless red dress, while her future husband was all in black.
Vergara has been planning their wedding since December. She told KIIS- FM radio that it is going to be a large wedding and the guest list keeps growing.
"I had to invite like all my family, and Joe has a lot of friends. So it became bigger and bigger and bigger," she said.
The Hot Pursuit actress also said they have set a date.
The Colombian-American will not have bridesmaids but will have flower girls, according to Cosmopolitan for Latinas.
Sofia's oldest son already calls his soon-to-be stepdad "Joe Volume 2," popping out the fact that his dad's is also named Joe.